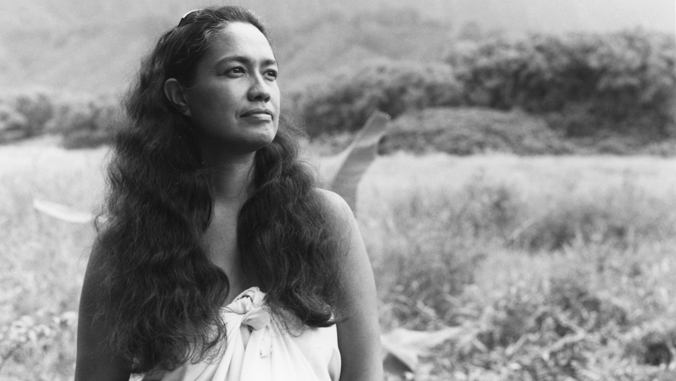 One of the highest honors bestowed in academia has been awarded to a University of Hawaiʻi at Mānoa Professor Emerita. Haunani-Kay Trask has been elected to the American Academy of Arts and Sciences, among the nation's oldest and most prestigious honorary societies.
Founded in 1780, the academy recognizes extraordinary people who help solve the world's most urgent challenges, and contribute to the common good from every field, discipline and profession. The exemplary Native Hawaiian scholar will join other notable lifetime members including John Adams, Charles Darwin, John F. Kennedy, Martin Luther King, Jr., and more than 250 Nobel and Pulitzer Prize winners.
July 3, 2021: In memoriam: Haunani-Kay Trask, exemplary Native Hawaiian scholar
"There is a delightful irony in the American Academy of Arts and Sciences counting Professor Haunani-Kay Trask, who steadfastly refuses identification as an American, among its newest members," said Laura Lyons, UH Mānoa interim associate vice chancellor of academic affairs. "This honor attests to the enduring contribution of her brilliant and transformative work as an activist, scholar and teacher. Her body of work cannot be ignored, for its power comes from both its unyielding criticism of and its insistent call to organize against the ongoing material effects of American imperialism in Hawaiʻi and elsewhere. Her voice and example continue to indict dispossession, inspire resistance and demand justice."
Blazing historic trails
Trask, who retired in 2010, started her extensive academic career at UH Mānoa in 1981 as an assistant professor in the American studies department with expertise in feminist theory and Indigenous studies. She is credited with co-founding the contemporary field of Hawaiian studies and went on to become the founding director of the UH Mānoa Center for Hawaiian Studies.
After battling gender and racial biases, Trask served as a tenured member of the university's faculty for 30 years. The Windward Oʻahu native has been a critical voice in what she called, "the modern Hawaiian movement" and the broader Hawaiian sovereignty movement. Throughout her career she has advocated for issues which support Indigenous nations around the globe. Trask has worked with leaders in Indigenous communities from throughout North America to the Māori of Aotearoa (New Zealand) and the Basque people of Spain among others. Her international reputation led to her addressing United Nations gatherings in Geneva, Switzerland and Durban, South Africa.
Empowering haumāna (students)
Stemming from a notable lineage of politicians and civil servants in Hawaiʻi, Trask made it her mission to fight for kānaka maoli (Native Hawaiians) rights and lands, all while encouraging the younger generation of kānaka attending the university to embrace their heritage.
"Nearly four decades later, her scholarship continues to be resonant and relevant for liberation movements here and abroad," said Erin Kahunawai Wright, an associate professor at the UH Mānoa College of Education. "At Mānoa, Professor Trask's influence transcends Hawaiian studies through the generations of students she inspired to embrace their kuleana lāhui (collective responsibility) and the epistemological and physical spaces she established for Hawaiians then and now. One of my favorite quotes from her is, 'Struggle teaches people that they can control their destiny if they try'—her legacy is definitely a reflection of this."
"No other Hawaiian leader has come close to the impact she has made for our lāhui"
—Kapulani Landgraf
Kapulani Landgraf, an associate professor of art at Kapiʻolani Community College was a student at UH Mānoa when she first met the passionate native Hawaiian icon. Landgraf, who went on to become an award-winning photographer, recalls how Trask inspired and helped establish her career. The vocal educator rallied support to publish Landgraf's Hawaiian place name book, Nā Wahi Pana o Koʻolau Poko.
"I was humbled that she was willing to take the risk with me especially knowing that it was not a unanimous decision," Landgraf explained. "Haunani gave me the space, place and voice when others didn't…She is fearless. I think of all the injustices she has righted—no other Hawaiian leader has come close to the impact she has made for our lāhui (nation)."
In 2019, Trask received the Angela Y. Davis lifetime achievement award by the American Studies Association. The honor recognizes scholars who have applied or used their scholarship for the public good. Trask also graced USA Today's Women of the Century, which highlights women across the nation and U.S. territories who have motivated and inspired others.
Trask will be inducted into the academy in spring 2022. Among the more than 250 scholars selected this year, she is one of eight in the political science field, joining elected scholars from Ivy League schools including Yale and Columbia University.
The David E. Stannard and Haunani-Kay Trask Endowed Scholarship in American Studies has been established to support American studies students at UH Mānoa with a research focus on Indigenous and/or Pacific Island studies.