About 200 University of Hawaiʻi at Mānoa students got their COVID-19 vaccinations through an on-campus POD (point of distribution) on April 30. The students received the Pfizer COVID-19 vaccine from Safeway Pharmacy through a partnership between UH and the Hawaiʻi Department of Health (DOH).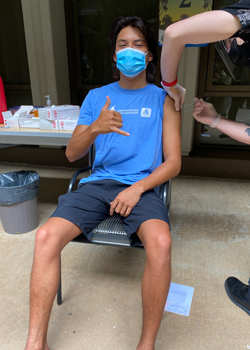 Students were notified by email, encouraged to schedule an appointment and reminded that UH strongly encourages everyone to get vaccinated to protect the entire campus community.
"I came down here to get vaccinated because I saw the email the school sent out and I thought it would be a good opportunity," said UH Mānoa student Cameron Malalis. "I wanted to be part of that. I really want to go back to school in the fall."
Fellow student Bastien Rasse, who also received the vaccine, agreed.
"The school gave me the opportunity to get it and I thought, might as well," said Rasse. "I really miss attending classes and everything and I think it is good that we get that back."
Students from the UH Mānoa School of Nursing and Dental Hygiene staffed the POD, and campus facilities, public safety and conference events services set it up in the Sakamaki Hall courtyard. UH and DOH officials are planning to hold more PODs on campus to make it as convenient as possible for students to receive the vaccine.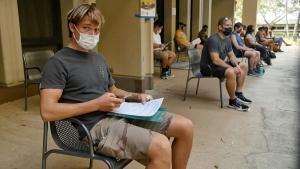 "The more people we get vaccinated, the safer everybody will be, at the individual level, the university level and the community level," said School of Nursing and Dental Hygiene Associate Dean Kristine Qureshi, who also serves on the UH Vaccination Team, which planned the event. "We are part of the community, and we are a community in and of itself, so we need to get our community protected."
Get Vaccinated UH! decals, buttons and pens were given to students at the vaccination event. UH launched a "Get Vaccinated UH!" awareness campaign on March 5 with UH President David Lassner stating:
"Widespread vaccination is the best way to end the COVID-19 pandemic and allow us to safely reopen our campuses with more in-person instruction and on-campus activities."
Students don't have to wait for the next POD to get vaccinated. Anyone interested can use the CDC Vaccine Finder to schedule an appointment at Longs/CVS, Safeway and other local pharmacies. The site also allows users to search by vaccine type (Pfizer, Moderna, Johnson & Johnson).