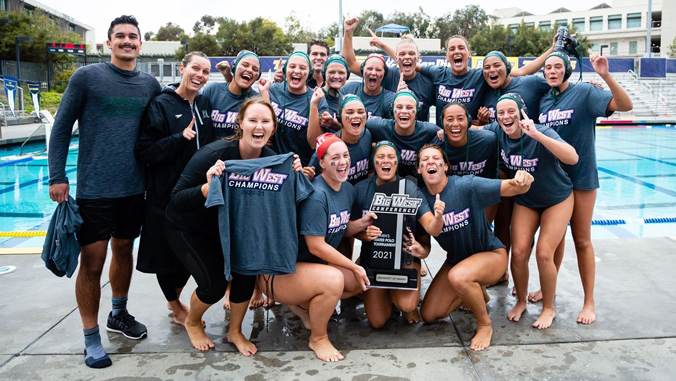 The University of Hawaiʻi at Mānoa women's water polo team won its second consecutive Big West Championship. For the fifth time this season, the No. 1 seed Rainbow Wahine defeated No. 3 seed University of California Irvine (UCI) 9-8 in a title match that took all 32 minutes to decide. This was also the fourth Big West Championship title in program history.
The 'Bows will head to Los Angeles, Calif., May 14–16 and continue the journey to an NCAA title.
Sophomore Emma van Rossum was named the 2021 Big West Women's Water Polo Championship Most Valuable Player. van Rossum totaled three goals and one assist through the entire tournament. Most importantly, her consistency and leadership in and out of the pool led the team to a victorious championship run.
A tough start saw the 'Bows falling behind after the first two frames 4-2, van Rossum and freshman Lucia Gomez de la Puente continued to keep the team within reach by each tallying one goal a piece.
In the third period, UH outscored UCI 5-4, including redshirt sophomore Libby Gault and Gomez de la Puente each adding a pair of goals.
The Rainbow Wahine held the Anteaters scoreless in the final quarter. Sophomore Olivia Kistler tied the game two minutes into the quarter before redshirt junior Lalelei Mataʻafa netted with three minutes remaining in the game to gain the advantage and secure the win.