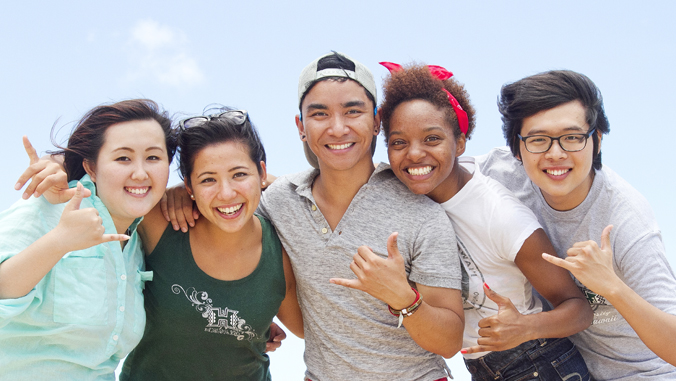 The University of Hawaiʻi at Mānoa is one of the best universities in the U.S. for learning experience, employability, diversity and research, according to the 2021 Quacquarelli Symonds (QS) USA University Rankings, released on May 5.
UH Mānoa placed No. 97 overall and No. 55 among public universities in the nation. UH Mānoa was also among the top schools with the highest ethnic student diversity.
QS evaluated 352 institutions out of nearly 4,300 degree-granting postsecondary institutions in the U.S. This is the second year QS—a global leader in higher education strategy based in London—released rankings for U.S. universities and colleges.
"UH Mānoa's standing in the QS USA University Rankings is a testament to the world class expertise of our faculty and staff. They bring this expertise to their work each and every day to prepare our students to be contributing and successful world citizens," UH Mānoa Provost Michael Bruno said.
In the 2021 QS World University Rankings, released in June 2020, UH Mānoa ranked No. 333 internationally based on academic and employer reputation, faculty/student ratio, citations per faculty, and the proportion of international faculty and students.
QS USA University Rankings methodology
The 2021 QS USA University Rankings rated institutions on 17 metrics in the areas of:
Learning experience (average instructional expenditure per [full-time equivalent] student, retention rate, Pell grant student graduation rates and student-faculty ratio)
Employability (employer reputation, alumni outcomes and salary after 10 years)
Diversity (gender pay gap, faculty gender diversity, ratio of undergraduate students receiving Pell grants, students' ethnicity mix, number of Fulbright recipients and proportion of international students)
Research (academic reputation, citations per paper, international research network and partnerships with employers per faculty)
Other rankings
UH Mānoa also received these prominent rankings:
For more, visit the Mānoa Institutional Research Office website.
These rankings are examples of UH Mānoa's goal of Enhancing Student Success (PDF) and Excellence in Research: Advancing the Research and Creative Work Enterprise (PDF), two of four goals identified in the 2015–25 Strategic Plan (PDF), updated in December 2020.
—By Marc Arakaki