One match away from a national championship! The No. 1 seed University of Hawaiʻi men's volleyball team (16-1) brought the "Mānoa Roofing Company" to Ohio to defeat UC Santa Barbara (16-5) in three straight sets in the NCAA Tournament semifinals to earn a spot in the title match. The Rainbow Warriors out-blocked the Gauchos 13.5-4 to beat UCSB 25-21, 25-18 and 25-23 in the all-Big West Conference semifinal showdown at the Covelli Center on the campus of Ohio State University. UH's block total was the highest in a three-set match the entire season.
Leading the way for UH was American Volleyball Coaches Association and Big West Player of the Year senior opposite Rado Parapunov with 12 kills and five blocks. Senior middle blocker Patrick Gasman added 10 kills and six blocks, and senior outside hitter Colton Cowell contributed 10 kills.
Match details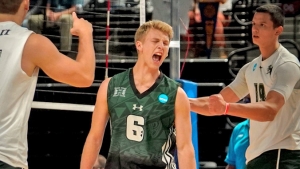 UCSB jumped out to an early 2-0 lead in set one on a pair of kills. The teams traded points until a UCSB hitting error tied the set at 7. The Rainbow Warriors surged ahead 15-12 on a pair of Parapunov kills and three UCSB hitting errors. After the media timeout, the Gauchos brought it back to all-square at 18 due to a series of attack errors by the Rainbow Warriors. Then, a three-point run capped off by a sophomore setter Jakob Thelle ace put UH up 21-18 and they never looked back. The Rainbow Warriors took set one 25-21 on a huge block by freshman middle blocker Guilherme Voss and Parapunov.
UH kept the momentum going into the second set, jumping out to a 3-0 lead on a block by Parapunov and Gasman forcing UCSB to call an early timeout. Both teams traded mini-runs before a pair of blocks and a Parapunov ace pushed UH up 11-5 forcing UCSB to burn another timeout. The Rainbow Warriors maintained their lead of at least four points through the remainder of the set, winning 25-18 on a kill by Cowell.
The Rainbow Warriors leaped out to an early 7-4 lead in the third set, before UCSB went on a four-point run forcing UH to call its first timeout. The Rainbow Warriors came out of the break on a 4-1 scoring run, capped off by a Thelle and Gasman block. UCSB went on a three-point run followed by a six-point run from UH, giving the Rainbow Warriors a 17-12 edge. UH never gave up its lead, taking the third and final set 25-23 on a kill by Parapunov.
Up next
This was the Rainbow Warriors' fourth victory over the Gauchos this season. UH now plays No. 2 Brigham Young University for the NCAA Championship on Saturday, May 8, 2 p.m. HST. The match will be televised live on ESPNU. The Cougars defeated Lewis College in four sets in the other semifinal.
For more information, see the UH Mānoa Athletics website.