"Ketchup and M&M's"
When the next Category 3 storm hits Honolulu, residents will need to survive on ketchup and M&M's, because, if the port of Honolulu is shut down, there will be nothing else to eat. "Ketchup and M&M's" is the premise and title of the third installment for a documentary series, A Climate for Change by Green Island Films. It premieres on KFVE on May 17, 7–9 p.m. and will also be livestreamed on all Hawaii News Now digital platforms. University of Hawaiʻi–West Oʻahu Assistant Professor of Sustainable Community Food Systems Albie Miles served as an advisor for the documentary and was also interviewed for the film.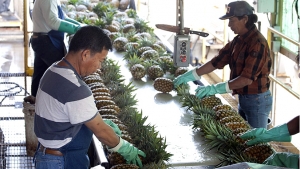 Miles said "Ketchup and M&M's" identifies a number of key points of vulnerability and the need for significant structural changes to Hawaiʻi's food system in order to promote climate change resilience, achieve household food security, enhance public health and reduce social inequalities. Addressing all of these issues through changes to our food system, he said, are essential to fulfilling the state's commitments to the UN Sustainable Development Goals and the Hawaiʻi 2050 Sustainability Plan.
The film also relates to a new research, policy and planning initiative, Transforming Hawaiʻi's Food System Together (THFST). This collaborative and multi-sectoral food system change initiative seeks to convene key stakeholders, conduct applied research, articulate policy and planning recommendations, and build statewide capacity to achieve a more economically robust, sustainable, equitable and resilient food system for Hawaiʻi. Besides UH West Oʻahu's Sustainable Community Food Systems program, THFST involves UH faculty and staff from the Office of Indigenous Innovation and UH Mānoa's College of Tropical Agriculture and Human Resources, in addition to many community and agency partners.
"The documentary tells an important story about the impacts to the food system during COVID-19, identifies key points of vulnerability, and points to the need for statewide food system planning and investment to simultaneously achieve public health, biocultural restoration, economic diversification, sustainability and climate change resilience goals in the face of future crises," Miles said. "We believe this is an important story that our community needs to hear to build the popular support for strategic planning and action for meaningful food system change."
According to a 2018 global report by the InterAcademy Partnership (IAP), comprising 130 national academies of science and medicine across Africa, Asia, the Americas and Europe, the current approach to food, nutrition, agriculture and the environment is unsustainable and must fundamentally change. According to the IAP and other scientific consortia (PDF), global food systems are failing humanity and accelerating climate change. Transforming global and regional food systems, and changing dietary patterns, are the key ways to improving human health and environmental quality while advancing climate change adaptation and mitigation. This message of an urgent need for food system transformation is increasingly echoed through a rapidly growing body of scientific research (PDF).
"Ketchup and M&M's" will be rebroadcast on various channels and streaming platforms through June 26. Download a schedule for more airtimes (PDF).