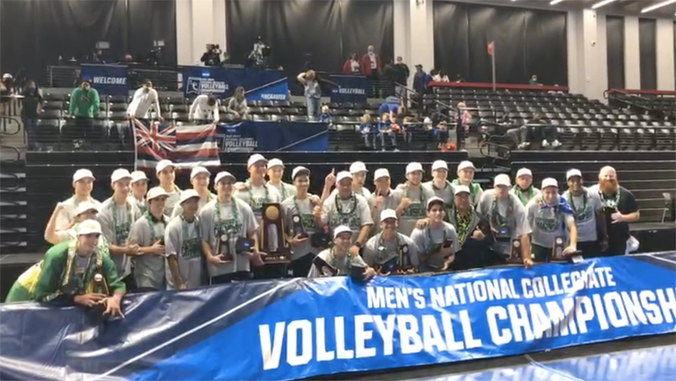 The University of Hawaiʻi at Mānoa men's volleyball team is the 2021 national champions! No. 1 seed UH (17-1) defeated No. 2 seed Brigham Young University (20-4) in three sets 25-21, 25-19 and 25-16 in the NCAA championship match at the Covelli Center on the campus of Ohio State University.
Leading the way for the Rainbow Warriors was American Volleyball Coaches Association and Big West Player of the Year senior opposite hitter Rado Parapunov with 13 kills hitting .357 and three service aces. Senior outside hitter Colton Cowell contributed seven kills and three service aces, and senior middle blocker Patrick Gasman had seven kills and two blocks. Freshman outside hitter Chaz Galloway added six kills hitting .667, while sophomore setter Jakob Thelle contributed 36 assists and four service aces.
Match details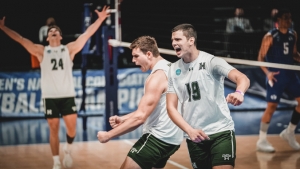 Both teams went neck-and-neck to open the match, before kills by Cowell and Parapunov, and a hitting error by BYU's Gabi Garcia Fernandez put the Rainbow Warriors up 8-5. Teams traded points before a pair of BYU kills forced UH to call its first timeout at 16-15. The Cougars took the lead on an error by Cowell, before UH went on a five-point run to lead 23-19. A BYU service error gave the Rainbow Warriors the first set win 25-21. Parapunov led the way with five kills, while Cowell and freshman middle blocker Guilherme Voss added four.
UH opened the second set with an early 2-0 lead before BYU took three straight points of its own. Both teams stayed close until a six-point serving run by Thelle pushed the Rainbow Warriors ahead 16-8. BYU went on a 6-2 run, but three consecutive service aces by Parapunov put the Rainbow Warriors up 23-14 and they never looked back. UH closed out the second set 25-19.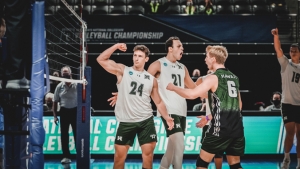 The Rainbow Warriors kept the momentum going, opening the third set on a 5-2 run. UH jumped out to a 9-4 lead on two kills by Thelle, before BYU got within two at 13-11 and 14-12. That was as close as the Cougars would get for the remainder of the set. UH went on a pair of mini-runs and maintained the lead, taking the final set 25-16 on a kill by Gasman.
Historic victory
This is UH's first NCAA team title in any sport since the Rainbow Wahine volleyball team defeated Stanford in the 1987 NCAA championship match. This also marked the final match for Rainbow Warrior seniors Parapunov, Cowell and Gasman.