Former University of Hawaiʻi football quarterback Colt Brennan died May 11, 2021. He was 37 years old.
The football standout led the UH Warriors to its only Football Bowl Series appearance in the Sugar Bowl against Georgia on January 1, 2008, after a 12-0 season where the team won the Western Athletic Conference title. Brennan was a Heisman Trophy finalist in his senior year.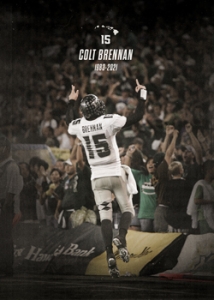 UH Athletics issued a written statement: "It's hard to put into words the impact that Colt Brennan had on Rainbow Warrior fans and the people of Hawai'i. He was a phenomenal player and provided us some of the greatest sports memories we'll ever have. But he was more than that. For all that he accomplished on the football field and the adulation he received for it, he always remained among the people. He never turned down an autograph, he never turned down a picture with someone. He inspired everyone, from our keiki to our kupuna. He had a Warrior mentality on the field, but a true aloha spirit off of it. Today is an extremely tough day. Our thoughts and prayers are with the entire Brennan ʻohana and we mourn together with all those across Hawaii and Rainbow Warrior nation who were touched by Colt,"
"We know how much the islands meant to him. The Hawaiian people, they were his ʻohana. He passed away peacefully with his sisters, mom, and dad by his side listening to Bob Marley and with a lei on his chest. He loved Hawaiʻi and we are forever grateful for all they did for him," Brennan's family said in a statement.
He finished his college career with 131 touchdowns breaking Brigham Young University's Ty Detmer's record of 121 touchdowns at the time. He finished breaking or tying 31 NCAA records at the end of his time in college football.
Brennan was drafted by the Washington Football Team in the sixth round in 2008. He remained with the team as a backup for two years. He played for several years for a variety of teams in other leagues.
He spent the last several years working with Hawaiʻi high school football programs.
Read more statements by other UH Football coaches and teammates at HawaiiAthletics.com.