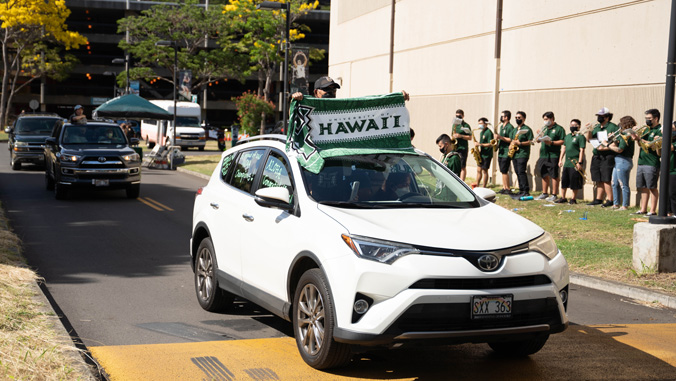 More than 500 cars loaded with University of Hawaiʻi men's volleyball fans drove through the lower campus of UH Mānoa welcoming back the Rainbow Warriors, one day after the team steamrolled their way to the program's first national championship.
The team defeated Brigham Young University in a three-set sweep in the NCAA title match in Columbus, Ohio, on May 8, 2021.
The vehicles wound their way near the Stan Sheriff Center. Fans decorated their cars, trucks and SUVs with banners and signs thanking the team members for bringing home the school's first NCAA team title since 1987, when the Rainbow Wahine volleyball team won the NCAA championship.
"It's great," Head Coach Charlie Wade said about the fan turnout. "It's unbelievable! The fans in Hawaiʻi are like nowhere else on Earth. They are so appreciative and so it's great to be able to celebrate with them a little bit. I'm thrilled we had this opportunity."
Gov. David Ige will also host the Rainbow Warriors at Washington Place to honor the team's victory.