Activism comes in many forms and for Craig Santos Perez that form is poetry. The University of Hawaiʻi at Mānoa professor pens award-winning poems that express his fear and frustration from global issues such as climate change, toxic waste and human violence. In 2020, Perez, an Indigenous Chamorro published Habitat Threshold, a book filled with poetry that addresses the dark aftermath of ecological colonialism in Hawaiʻi, Guam, and the larger Pacific.
In May 2021, Perez' book earned the prestigious gold Nautilus Book Award which honors published works about the environment and social justice.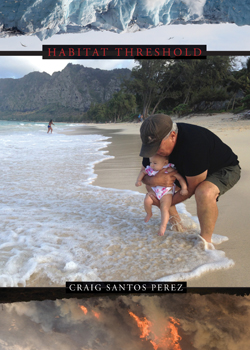 "I feel very fortunate to receive this recognition, which was a bright moment during the pandemic," he said.
It's that very blend of poetry and environmental justice that Perez infuses into his courses at UH. For the past 10 years he has taught creative writing, environmental poetry and Pacific Islander literature in the English department at UH Mānoa.
"My goal is to inspire my students to write and care about ecological issues and climate change…I love teaching at UH because of our diverse student body and our emphasis on environmental and place-based learning," Perez said.
This spring, Perez racked up yet another accolade. He landed a spot on the 2021 "Grist 50," an annual list of 50 emerging leaders in climate, sustainability and equity who are creating change across the nation. Grist, a leading climate media organization, selected Perez out of a pool of 1,000 nominees. The coveted list includes an artificial intelligence guru who develops robots to sort recyclables and a Hip hop artist recording tracks to raise awareness about flood-prone South Carolina's battles with climate change.
In 2022, the UH Press is set to publish an anthology of Pacific Islander Eco-Literature that Perez is co-editing. His words, whether composed free style, haiku or prose are what he considers a megaphone urging society to listen and fight for change.
This work is an example of UH Mānoa's goal of Excellence in Research: Advancing the Research and Creative Work Enterprise (PDF), and Building a Sustainable and Resilient Campus Environment: Within the Global Sustainability and Climate Resilience Movement (PDF)—two of four goals identified in the 2015–25 Strategic Plan (PDF), updated in December 2020.