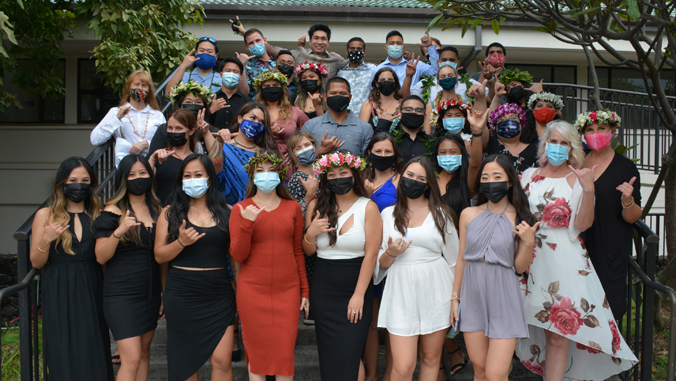 It was a beautiful and emotional evening, when 41 students marked their graduation from the University of Hawaiʻi Maui College's Nursing Program on May 13. The full cohort of students took part in the 2021 Pinning Ceremony, and were able to share their accomplishment with a limited number of family members.
Allied Health Department Chair Anne Scharnhorst lauded the students for completing their requirements through the challenges presented by the COVID-19 pandemic.
"On March 9, 2020, we pulled out of all clinical sites and were soon thereafter sent off campus. Over the following 10 months, this cohort experienced nearly weekly changes to their schedules as we, and they, adapted to the loss of clinical and instant distance learning. This required them to learn nursing at the same time they were learning several new technologies," Scharnhorst said. "The stress from the pandemic also added constant pressure on them. Their performance through it was amazingly professional both in terms of results and character."
In addition to the rigorous curriculum, the nursing students served both the college and community at large continuously and selflessly.
"They supported COVID testing at the airport and on campus before the vaccines, and have spent 874 hours in the [Department of Health] vaccination clinics on our campus, and in the community at the Kahului and Lahaina Salvation Army sites, Binhi at Ani (Filipino Community Center), and Kalama Heights," said Scharnhorst. "One faculty and two students went to speak to Wailea resort Filipino landscapers in Tagalog and Ilocano to address their vaccine hesitancy. As a result, nine of them chose to be immunized."
Next steps after graduation
Next up for the graduates is the licensure exam. The Wailea Community Association has generously funded the exams for the entire class. Scharnhorst said that amounted to about $200 per student to take the exam, plus airfare to and from Oʻahu (the only place where the exam is given) and ground transportation.
Many of the graduates are expected to find work on Maui. Scharnhorst said Maui Memorial Medical Center has been hiring a large percentage of them the past three years and has indicated they will likely continue to do so.
She said, "The hospital offers an evidenced-based nurse residency program to onboard new nursing graduates that strongly supports their transition to practice and affords a documented level of safety and quality for the care at Maui Memorial—an excellent outcome for Maui County. Hale Makua is also opening a couple of slots for home health to these grads, which is a first and very exciting for them and the community."