There was no actual paddling a canoe made of concrete at Keʻehi Lagoon this year, but the University of Hawaiʻi at Mānoa College of Engineering concrete canoe team is headed to the national finals for the first time since 1996. Consisting of 10 students, the team was selected as a wild card after its strong appearance in the regionals, earning them a spot in the competition hosted by the American Society of Civil Engineers (ASCE).
The virtual competition runs June 25–27 and will be streamed live on ASCE's Facebook page. UH Mānoa will compete against 23 other teams from North America and Asia. The team was selected as a wild card after finishing in second place at the regional ASCE Pacific Southwest Conference (PSWC) tournament.
"The goal for our team is to refine our presentation from PSWC to have an improved performance at nationals and represent UH Mānoa to the best of our ability," said Chandelle Takahashi, the team's project manager and senior in civil and environmental engineering. "We also hope to enjoy and take this competition as a learning experience since we are competing with schools outside of our region."
Virtual canoe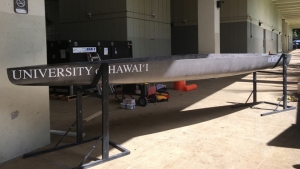 The COVID-19 pandemic forced the competition to transition many of its components online, and drop popular elements including an in-person canoe product showcase and paddling races to determine the most efficient canoe. Additional emphasis is now placed on technical reports and presentations.
Takahashi said in normal years, members would spend more than six months in the lab constructing the canoe, followed by several weeks of racing practices at Keʻehi Lagoon. This year, the team spent only one month in the lab, casting two 4-foot long sections of the canoe, to test construction methods and provide future team members with hands-on experience.
"We were limited to the amount of hands-on experience we could provide and the amount of people who could attend work days. Due to these limitations, the social aspect of the project was lost to some extent," Takahashi said. "The team members normally bond over the late nights spent at the lab or paddling practices, but all of our team meetings were held over Zoom and some of our team members were not on island. Our team was very collaborative despite the virtual format."
One positive, Takahashi said, was that the team was able to focus more on the technical aspects of the project and increase project documentation (calculations, pictures and instructions) to assist future teams.
The team is advised by Associate Professor Oceana Francis after Professor Roger Babcock was selected to lead City and County of Honolulu's Department of Facility Maintenance.
For more, visit the College of Engineering website.
This project is an example of UH Mānoa's goals of Excellence in Research: Advancing the Research and Creative Work Enterprise (PDF), and Enhancing Student Success (PDF) two of four goals identified in the 2015–25 Strategic Plan (PDF), updated in December 2020.
—By Marc Arakaki