Every year, more than 23,000 people in the U.S. are diagnosed with brain cancer or other nervous system cancers. From 2012 to 2016, an average of 67 adults were diagnosed annually with brain cancer or other nervous system cancers in Hawaiʻi. For the most aggressive forms of brain cancer, the average survival time is just 15 to 16 months after a patient is diagnosed and has received standard surgery, chemotherapy and radiation treatment. Brain cancer has a higher mortality rate and disability compared to many other cancers due to its location and the lack of screening for early detection.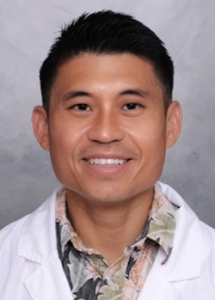 May is Brain Tumor Awareness Month. To raise awareness, the University of Hawaiʻi Cancer Center will kick off its 11th annual Quest for a Cure lecture series on May 27, 5–6 p.m., sharing the latest progress in brain cancer research. The free Zoom webinar will give the public an opportunity to learn from two of Hawaiʻi's brain cancer experts, Thomas Noh, a neurosurgeon with Hawaiʻi Pacific Health, and Christina Speirs, a radiation oncologist with The Cancer Center of Hawaiʻi.
Brain cancer is usually diagnosed only after symptoms occur when the tumor is large and may be very aggressive. "Since there is no form of early detection for brain cancer, the disease can be difficult to treat," said Noh. "The treatment of brain tumors typically involves a multidisciplinary approach that includes surgery, radiation and chemotherapy. These treatments can be very invasive, and the patient's doctor must carefully weigh a myriad of pros and cons to come up with the best course of action."
Brain tumors are the most common solid tumors that affect children and adolescents. The location of the tumors often causes complications, and required treatments can result in long-term intellectual and neurological impairment.
Cancer biology research at UH
Investigators with the UH Cancer Center's Cancer Biology Program are conducting basic research to better understand how different cancers develop and grow at the cellular level, and how to treat these diseases more effectively. UH Cancer Center Deputy Director and Professor Joe W. Ramos is working with collaborators to identify the underlying mechanisms that control brain cancer cell invasion in the most aggressive forms of the disease for which there are currently limited therapeutic options.
"For one type of brain cancer, stage IV glioblastoma, we found a protein called RSK2, which controls a number of processes in the tumor cells that cause them to invade surrounding tissue," said Ramos. "In pre-clinical models, we discovered that targeting this protein to block its function reduces invasiveness and eventually kills the glioblastoma cells." Ramos will host and moderate the May 27 event.
Treatments
Treatment for brain cancer depends on the type, size and location of the tumor. Surgery is one form of treatment that is commonly used when the tumor is small and located where it is operable. Radiation therapy and chemotherapy are other forms of brain cancer treatment.
"One of the most significant advancements in radiation therapy has been the rise of molecular subtyping of brain cancers, which allows us to determine whether radiation therapy is truly the best form of treatment for each patient," said Speirs.
Learn more about Quest for the Cure. Upcoming lectures include "Cancer and Diabetes" on June 24 and "Learn From the Experts on Pancreatic Cancer" on July 29.
This event is an example of UH Mānoa's goal of Excellence in Research: Advancing the Research and Creative Work Enterprise (PDF), one of four goals identified in the 2015–25 Strategic Plan (PDF), updated in December 2020.