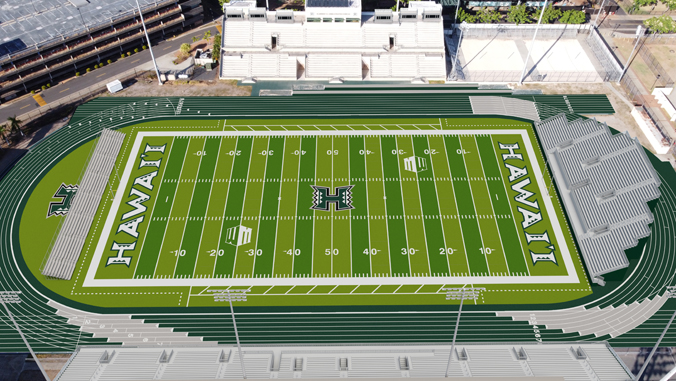 The University of Hawaiʻi at Mānoa Athletics Department has released season ticket information for the upcoming 2021 football season. All home games will be played at the Clarence T.C. Ching Athletics Complex on the UH Mānoa campus for the next three seasons.
Construction is underway to retrofit the complex with additional grandstands that will expand capacity from 3,500 to about 9,000 seats. However, those are not enough seats to accommodate the 16,000 ticket commitments for the upcoming year to season ticket holders and students, and contractual agreements with corporate partners and visiting teams.
"Our goal is to be as transparent and inclusive as possible," Athletics Director David Matlin said. "It is a delicate balancing act between revenue generation and inclusiveness. We are providing a pool of tickets to be available on an individual game basis for season ticket holders who don't receive season tickets (under a new priority system) this year. This will enable more access to our season ticket holders."
For more details on 2021 football season ticket eligibility and priority system, visit the UH Mānoa Athletics website.
Matlin added, "This situation is temporary and we are optimistic that we will be able to expand seating capacity up to 15,000 fans in year two in order to provide more opportunities for our loyal fans to experience the excitement of Hawaiʻi Warrior football in person."
Along with grandstands, the retrofit project will add press boxes, hospitality suites and other amenities. The university is fast-tracking the $8.3 million project after being notified in December 2020 that Aloha Stadium, the Rainbow Warriors' home field since 1975, would not be available to fans for the next three years.
The first home game is scheduled for September 4 versus Portland State University, the first of six home games scheduled in 2021. The Rainbow Warriors have seven home games scheduled in each of the 2022 and 2023 seasons.