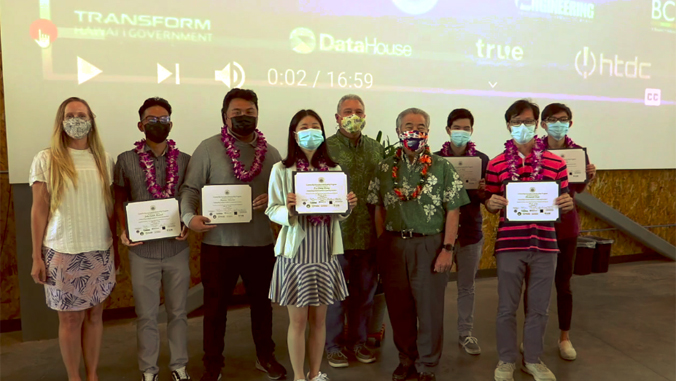 How to help the community effectively manage stormwater runoff was the focus of a University of Hawaiʻi at Mānoa College of Engineering student-powered project in spring 2021. The Community Innovation Mentorship Program (CIMP) 2.0 paired 10 UH students from two engineering disciplines and a team of five Waipahu High School students with industry mentors to design a real-world solution to this growing challenge.
Stormwater runoff is precipitation that does not get absorbed by the ground and flows into sewers and streams, eventually leading to the ocean. The water is untreated and has collected pesticides, dirt, debris and physical and chemical pollutants. Most of this water flows from developed areas, such as buildings and pavements. Hawaiʻi's growing population has made stormwater runoff a pressing issue in our state.
The CIMP project focused on Waipahu High School, which is one of the many facilities managed by the Hawaiʻi Department of Education (HIDOE). Students were divided into two teams, the computer engineering team and the civil engineering team, and worked with mentors from DataHouse and Belt Collins Hawaii to develop a storm drainage solution for the school. Waipahu High School students were also mentored by the civil engineering students and were involved in collecting data for the project.
"We consider our partnership with industry and government through CIMP as part of our transformational process to further introduce industry infused curriculum by exposing our students to real-world problems that require real-world solutions and in an environment much more similar to what they will see after they graduate that they simply can't get in the classroom or from a lecture or a lab class," College of Engineering Dean Brennon Morioka said. "Programs like this benefit all of the participants including our students as well as our industry partners who will be hiring our graduates who will now be better prepared for life after college."
Computer engineering team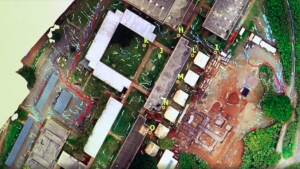 Stormwater utility fees are charged to property owners to assist the city in managing stormwater runoff. Tsz Ching Wong is a sophomore majoring in computer engineering, and was one of five members on the computer engineering team tasked with calculating stormwater utility fees for Waipahu High School. The team developed a prototype website that allows property owners, including HIDOE, to calculate their stormwater utility fees and see how they may be reduced if they add "green solutions" on their property. The student team members were mentored by Mark Osman from DataHouse.
"This is a real-word experience for me because in the past, I didn't really have the chance to work with students from different departments," Wong said. "But in this project, we were able to work with the civil (engineering) team, Waipahu High School students and employees from DataHouse."
"There's no more hiding behind iPads or computer screens because we really push the concept of thought, connection, communication, accountability, which becomes paramount to the real-world setting," Osman said.
Civil engineering team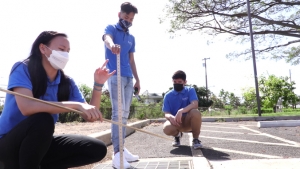 Marcus Silvestre, a spring 2021 civil engineering graduate, was one of five students on the civil engineering team. They developed best management practices for stormwater runoff to decrease the amount of impermeable (not allowing fluid to pass through) area and sediments in the runoff, and increase the stormwater capacity. Their solution included upgrading the stormwater system to increase the amount of water it can hold, suggesting hybrid parking lots and trenches, and adding vegetation to existing dirt patches.
Part of the experience for the civil engineering students included mentoring a team of Waipahu High School students in collecting data around their campus that served as key inputs to the final analysis and design. The overall civil engineering team was mentored by John Chung from Belt Collins Hawaii.
"This was a unique experience because we had to work with people that we've never met before that aren't civil engineers, so we had to make sure the information that we're giving them is pertinent to their scope that they're working on," Silvestre said.
"This program was great," said Waipahu High School student Kenneth Lactaoen. "It gave me a good amount of experience as to what civil engineers do. I personally enjoyed it."
Community Innovation Mentorship Program
CIMP is part of Hawaiʻi's Technology Readiness User Evaluation TRUE Initiative, which tech-enables organizations and aims to create more higher-paying jobs in Hawaiʻi. CIMP celebrated its second year with a virtual presentation and ceremony at the Entrepreneurs Sandbox in Kakaʻako on May 21. The event was attended by students and their mentors, Gov. David Ige and other representatives from the College of Engineering, Waipahu High School, DataHouse, Belt Collins, TRUE Initiative from the Hawaiʻi Executive Collaborative, Transform Hawaiʻi Government and Hawaiʻi Technology Development Corporation.
This program is an example of UH Mānoa's goals of Enhancing Student Success (PDF), Building a Sustainable and Resilient Campus Environment: Within the Global Sustainability and Climate Resilience Movement (PDF) and Excellence in Research: Advancing the Research and Creative Work Enterprise (PDF), three of four goals identified in the 2015–25 Strategic Plan (PDF), updated in December 2020.
—By Marc Arakaki