The Polynesian Voyaging Society's (PVS) two traditional Polynesian canoes returned to Oʻahu on May 27, after a two-week training voyage to prepare for its 2022 Moananuiākea Voyage, a circumnavigation of the Pacific. Hikianalia arrived at the University of Hawaiʻi Marine Education Training Center at Sand Island at 4:30 a.m. followed by Hōkūleʻa at 5:30 a.m.
The original sail plan was for the crew to sail to the Inter-Tropical Convergence Zone (the doldrums), located approximately 5 degrees north of the equator. The canoes, however, were delayed for nine days off Lahaina, Maui due to dangerous conditions in the Alenuihaha Channel. Once the weather cleared and the canoes were able to cross the Alenuihaha Channel, which is considered the second roughest channel in the world, and head to Keauhou on Hawaiʻi Island. From Keauhou, they sailed to Kalae (South Point) and then into Moananuiākea, about 100 nautical miles south of Hawaiʻi Island.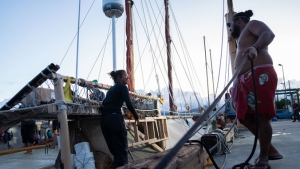 "Although our intent was to take the crew into the storm of the doldrums, Mother Nature had other plans. We still had a robust training nonetheless and we still hit Moananuiākea," said PVS President and Pwo navigator Nainoa Thompson. "There have been many gifts of learning that we never ever imagined, because we were forced to change. It's been a spectacular training program," he added.
The training voyage also provided an opportunity to test the newly-refurbished vessels in strong winds and rough waters. PVS's goal is to have 120 new crew trained by the end of the summer in preparation for next year's circumnavigation of the Pacific.
UH's role in Moananuiākea Voyage
Several key partners including UH's Office of Indigenous Innovation, UH Mānoa's Laboratory for Advanced Visualization & Applications (LAVA), UH West Oʻahu, Arizona State University, Kamehameha Schools and the Omidyar ʻohana are contributing to the educational activities of the training sails and the upcoming Moananuiākea Voyage, launching the first phase of the virtual "Third Canoe."
UH is developing initiatives that blend ancestral knowledge and contemporary innovation to support the educational goals of the "Third Canoe." Currently, LAVA is working with Honolulu Community College and UH West Oʻahu's Academy for Creative Media to perform photogrammetric scans of Hōkūleʻa to create the world's first fully accurate digital archival model of the historic vessel for future crew training, and capturing events onboard Hōkūleʻa and Hikianalia during the Doldrums Sail to provide viewers who may never have the opportunity to sail on a voyage to experience it through immersive virtual reality. These products will eventually be exhibited in the Create(x) emerging media space at UH West Oʻahuʻs new Academy for Creative Media Building.
Visit the website for more on the return and next training voyage.