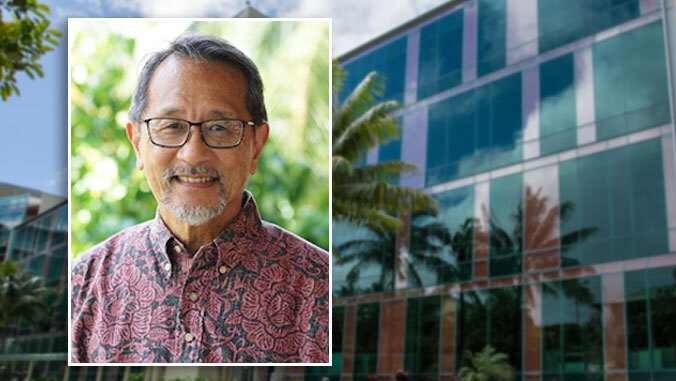 The University of Hawaiʻi Cancer Center has named Jonathan K. Cho as its new Clinical Trials Office's (CTO) medical director. Cho will be responsible for overseeing the UH Cancer Center's clinical trials administered through CTO. He has been a faculty member of the UH Cancer Center since 1991, and has served the people of Hawaiʻi as a local oncologist for more than 29 years. Since 2016, the UH Cancer Center has enrolled more than 16,000 patients in clinical trials in Hawaiʻi.
Cho is no stranger to clinical trials in Hawaiʻi, having been a strong advocate for clinical trials and enrolling many patients on UH Cancer Center trials as a leading community oncologist. He led the UH Cancer Center's CTO from 2011 to 2014. He is also charged with exploring ways to increase enrollment into clinical trials to meet the cancer center's challenge of the 20BY25 campaign to enroll 20% of newly diagnosed and relapsed cancer patients onto clinical trials by the year 2025, including through healthcare providers, community education and outreach.
Prior to his recent appointment at the UH Cancer Center, Cho was one of six physicians specializing in cancer and blood disorders at Hawaiʻi Cancer Care. "I believe that my past experience makes me a good fit for the role," said Cho. "The medical director will need to work with our community cancer care providers, and I am hopeful that my having been part of this community will facilitate this relationship."
Cho is a graduate of the John A. Burns School of Medicine at UH Mānoa. He completed his internship and residency in internal medicine at the University of California, Irvine (UC Irvine), a fellowship in medical oncology at the City of Hope National Medical Center in Duarte, Calif. and a combined medical oncology/hematology fellowship at UC Irvine. Cho is a member of the American College of Physicians, American Society of Hematology and American Society of Clinical Oncology.
"Clinical trials provide patients with the highest level of care. With Dr. Cho's support, we are looking forward to making sure that we are administering the clinical trials that are most beneficial to Hawaiʻi's people, and that these are accessible to all patients throughout the state," said UH Cancer Center Director Randall Holcombe.
This year, the UH Cancer Center is reflecting on 50 years of progress in cancer research, and is looking forward to the years to come. Cho's appointment marks a new beginning for the cancer center as he develops ways to positively impact the community through clinical trials.