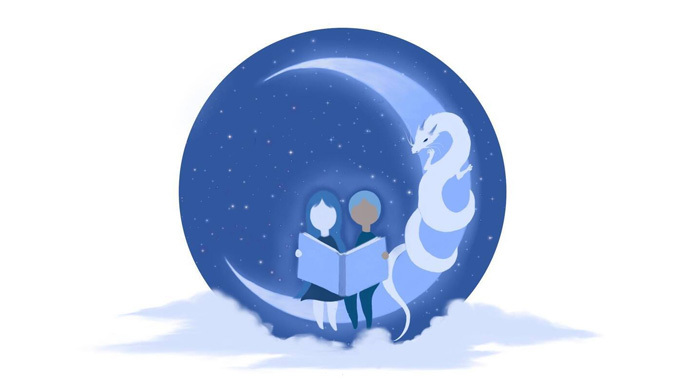 The University of Hawaiʻi at Hilo will co-host the 20th Biennial Conference on Literature and Hawaiʻi's Children, a series of virtual events to help promote appreciation of children's literature. The free online conference will run from June 4–8, and is sponsored by Children's Literature Hawaiʻi. It will feature storytelling, educational workshops and presentations tailored toward keiki surrounding this year's theme, "A Net Full of Stories, Imagined and Real."
The 2021 conference will be held on Oʻahu and Hawaiʻi Island. It will stream online June 4–8, from Tenney Theatre and Chaminade University. UH Hilo will host a virtual event on June 7, which requires a separate registration.
Hawaiʻi native Lehua Parker, author of several award-winning books including 2017 Nēnē Award nominee One Boy, No Water, will headline conference events on Oʻahu.
Hawaiʻi Island award-winning artist and author Caren Loebel-Fried, known for her eco-focused hand-colored block prints will be a featured guest at UH Hilo's event.
"The UH Hilo English department is delighted to host a one-day Children's Literature Hawaiʻi webinar," said Kirsten Møllegaard, professor and chair of UH Hilo's English department. "In organizing the Hilo event, we've made an effort to celebrate the creativity, artistry and joy of working with children and literature that exist in our local communities."
The Hilo campus' event will also feature UH Hilo faculty Justina Mattos, an assistant professor of performing arts who recently received the UH Regents Medal for Excellence in Teaching and Kamalani Johnson, a lecturer and curriculum specialist at Ka Haka ʻUla O Keʻelikōlani College of Hawaiian Language. Other speakers include a roundtable of children's librarians from public libraries in Kona, Kealakekua and Hilo.
Audiences will also hear from local and national writers, artists, educators, scholars and performers during the conference.
For more go to UH Hilo Stories.
—By Susan Enright, a public information specialist for the Office of the Chancellor and editor of UH Hilo Stories. She received her bachelor of arts in English and certificate in women's studies from UH Hilo.