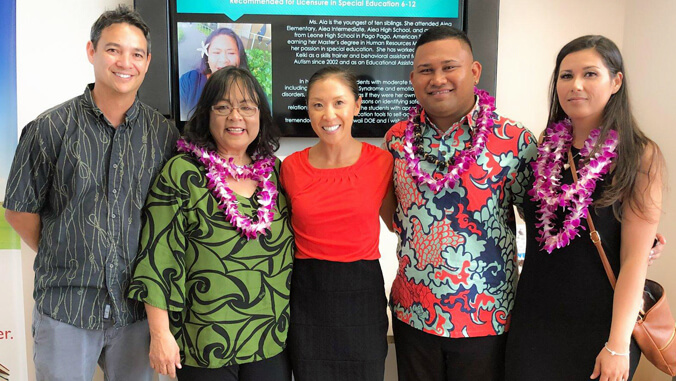 Leeward Community College is the first community college in the nation to receive a full seven-year accreditation from the Association for Advancing Quality in Educator Preparation (AAQEP). The recognition is for two credentials within the college's Teacher Education Program: the Alternative Certification for Career and Technical Education and the Advanced Professional Certificate in Special Education.
After reviewing the evidence collected through a process of self-study and peer review, the AAQEP Accreditation Commission issued the decision at its April 30 meeting.
"AAQEP is delighted to acknowledge Leeward's programs as the first community college-based programs to achieve accreditation, and to recognize those programs' ongoing work to improve access to teaching for underrepresented students from local communities," wrote AAQEP President and CEO Mark LaCelle-Peterson.
The AAQEP Accreditation Commission concluded that Leeward CC is adaptable and will engage with stakeholders and partners to strengthen the P–20 education system, while maintaining the institution's commitment to serving the Native Hawaiian community.
"Our educational programs have been designed to meet local needs, and are key to the continued growth and future of Hawaiʻi," said Chancellor Carlos Peñaloza. "This accreditation clearly indicates our commitment to access education, and our communities can rest assured that the value of our Teacher Education Program is second to none."
Meeting community needs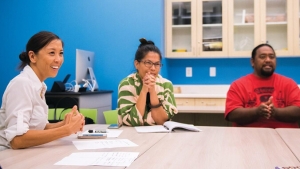 For Career and Technical Licensure Program Coordinator Brian Ichida, working with community educators and partners is crucial to the program's success.
"We are honored to receive full accreditation from AAQEP in recognition of our teacher education program faculty, staff and [career and technical education] partners. Our commitment to working with school leaders, and engaging with the local community is reflected in this positive assessment of our academic programs," Ichida said.
The full AAQEP accreditation also helps Leeward CC meet a critical need for qualified special education teachers in Hawaiʻi.
"Through AAQEP accreditation we can deliver a much-needed pathway to licensure in special education, an area that has persistently experienced the highest shortages of highly qualified teachers in our state," said Christina Keaulana, special education licensure program coordinator. "We are grateful for the recognition that our innovative approach to teacher preparation aligned with professional standards of practice can serve as a model for non-traditional teacher preparation."
National accreditation assures the quality of professional preparation programs through a nongovernmental, nonregulatory process of self-study and peer review. This standards- and evidence-based process serves two broad aims: accountability and continuous improvement. The AAQEP model is also designed to honor local context and foster innovation and collaboration among institutions. AAQEP currently has members in 27 states and territories with more than 150 educator preparation providers participating in the accreditation system.