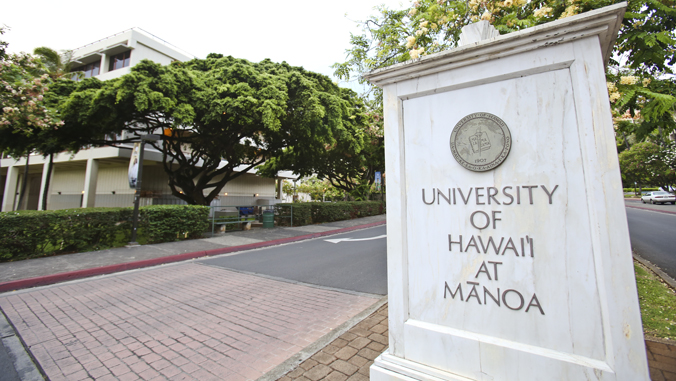 The University of Hawaiʻi at Mānoa is in the world's top 2% for academic and research excellence out of more than 26,000 worldwide colleges and universities, according to the 2022 Quacquarelli Symonds (QS) World University Rankings released on June 8.
UH Mānoa placed No. 62 among U.S. universities and No. 340 in the world. The rankings factor academic reputation (40%), faculty student ratio (20%), citations per faculty (20%), employer reputation (10%), international faculty index (5%) and international student index (5%). QS analyzed 1,673 institutions for its world rankings. The London-based organization is considered a global leader in higher education strategy.
"Recognition in the top 2% in the world is reserved for colleges and universities demonstrating academic and research excellence at the highest level. This recognition by QS is representative of the superior work produced by our faculty, staff and students," UH Mānoa Provost Michael Bruno said. "Hawaiʻi can be proud knowing that one of the top universities in the world is located right here in our state."
UH Mānoa placed higher than University of Utah (No. 67 U.S., No. 358 worldwide), University of California, Riverside (No. 72 U.S., No. 403 worldwide) and Washington State University (No. 74 U.S., No. 427 worldwide).
QS also ranked UH Mānoa No. 97 overall and No. 55 among public universities in the nation in its USA University Rankings, released in May 2021. The criteria was based on learning experience, employability, diversity and research.
Other rankings
UH Mānoa also received these prominent rankings:
For more, visit the Mānoa Institutional Research Office website.
These rankings are examples of UH Mānoa's goals of Enhancing Student Success (PDF) and Excellence in Research: Advancing the Research and Creative Work Enterprise (PDF), two of four goals identified in the 2015–25 Strategic Plan (PDF), updated in December 2020.
—By Marc Arakaki