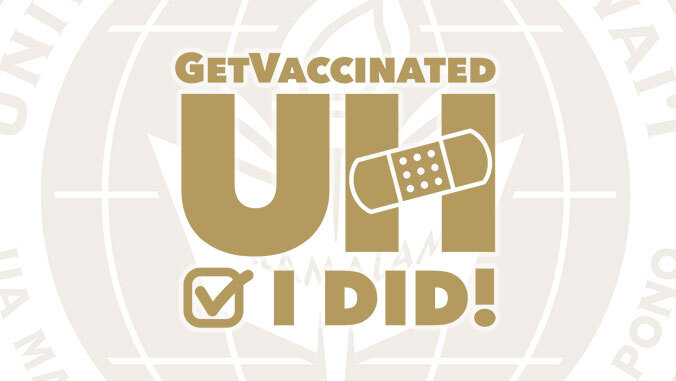 The University of Hawaiʻi continues to encourage students to get fully vaccinated for the COVID-19 virus before the start of the fall semester. The regular communications is part of the "Get Vaccinated UH!" awareness campaign launched in March.
COVID-19 vaccination required for spring registration,
September 21
"There is a COVID-19 vaccine dose waiting for you!" proclaimed a June 8 message to students at UH's 10 campuses that also encouraged students to get fully vaccinated before August 1. The message included information on how to find a convenient location and win prizes:
The UH System announced on May 17 that the COVID-19 vaccination has been added to the student health clearance requirements beginning in the fall 2021 semester. The requirement will take effect after at least one of the three COVID-19 vaccines currently under emergency use authorization has been approved and fully licensed by the U.S. Food and Drug Administration, which is anticipated this summer.
Students without qualifying exemptions will be required to be vaccinated for the COVID-19 virus in order to engage in in-person, on campus classes and activities during the fall 2021 semester.