Research by teams at the University of Hawaiʻi Cancer Center was well represented at the American Society of Clinical Oncology's (ASCO) annual conference, held virtually June 4–8.
ASCO is a diverse network of oncology professionals, whose mission is to conquer cancer through research, education and promotion of the highest quality of patient care. Eight abstracts by UH Cancer Center researchers were presented at the conference.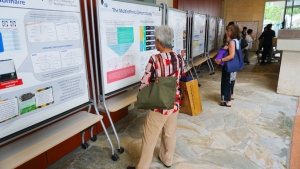 "It's exciting to have this many researchers being recognized for their important work. It's an honor to be recognized by ASCO, and this just goes to show how impactful our research at the UH Cancer Center really is," said UH Cancer Center Director Randall Holcombe. "All of these projects address cancer among Hawaiʻi's unique racial and ethnic populations, which may benefit minority and underserved groups all over the world."
UH Cancer Center research projects for which abstracts were selected were led by Jared Acoba, Jeffrey Berenberg, Jami Fukui and Izumi Okado.
Fukui and collaborators had four abstracts for studies on breast cancer selected for online publication.
Berenberg and his colleagues had an abstract selected for a study on genetic predictors of disparities of medication side effects used in breast cancer, and another for online publication on epithelial ovarian cancer survival rates in different racial/ethnic groups.
Okado and her collaborators' abstract was accepted for an online presentation regarding cancer care coordination.
Acoba's colorectal cancer study abstract was accepted for a poster discussion during the conference.
ASCO's annual meeting allows attendees to stay up-to-date with the latest research advances, engage in interactive sessions, and become part of a global oncology community that is committed to achieving equitable cancer care.
For more go to the UH Cancer Center website.
This is an example of UH Mānoa's goal of Excellence in Research: Advancing the Research and Creative Work Enterprise (PDF), one of four goals identified in the 2015–25 Strategic Plan (PDF), updated in December 2020.