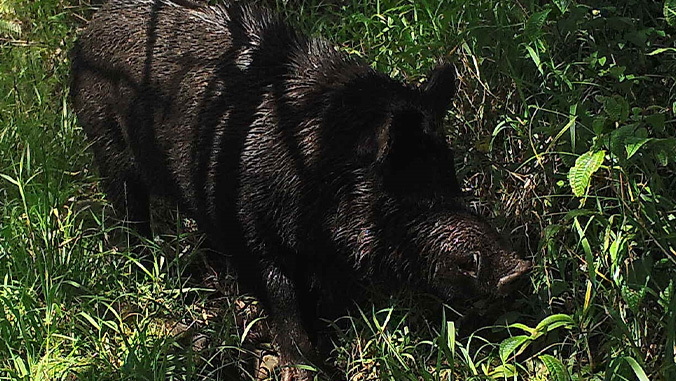 Black-tailed deer in Hawaiʻi? Where do squirrels thrive best? Unlike for birds, which have multiple large-scale monitoring programs, mammals have not had a standard way to monitor their populations on a national scale.
To address this challenge, scientists from the North Carolina Museum of Natural Sciences and the Smithsonian Conservation Biology Institute collaborated with more than 150 scientists, including University of Hawaiʻi at Mānoa Professor Melissa Price, who runs the College of Tropical Agriculture and Human Resources Hawaiʻi Wildlife Ecology Lab, and spatial conservation and wildlife planner Derek Risch, on the first-ever nationwide effort for surveying mammals, called Snapshot USA.
The survey is made up of 1,509 motion-activated cameras from 110 sites located across all 50 states. Price and Risch deployed game cameras on Oʻahu to survey for mammals and contributed data for Hawaiʻi to the national dataset.
Researchers collected more than 166,000 images of 83 different mammal species over two months in fall 2019. White-tailed deer were the most common species detected (34,000+ times at 1,033 sites), followed by eastern gray squirrels and raccoons. Pygmy rabbits, mountain beavers, hog-nosed skunks and marsh rabbits were among the least common mammals photographed. The overall detection winner was the coyote, which was detected in all 49 continental states except Hawaiʻi. On Oʻahu, feral pigs, Indian mongoose and feral cats were detected on the deployed cameras. Hunting dogs were also observed.
The research results are archived at the Smithsonian Institution's eMammal database and published in Ecology.
"Hawaiʻi is unique among the 50 states in that all terrestrial mammals, other than our native Hawaiian hoary bat (ʻōpeʻapeʻa), are non-native," said Price. "Pigs, dogs and Polynesian rats were brought to the islands about 1,000 years ago, and all other mammals—goats, deer, sheep, cattle, cats, mongoose, new varieties of pigs and dogs, and two additional species of rats—were introduced from all over the world within the last 200 years."
"It's important that researchers in Hawaiʻi play a collaborative role in these nationwide efforts to showcase the composition of introduced mammals here," added Risch. "Our only native terrestrial mammal is the ʻōpeʻapeʻa so it's vital we share data with the broader scientific community across the United States documenting the extent of these introduced mammals and how they have shaped and defined our landscapes."
In an interesting twist, developed areas tended to have the highest overall mammal detections, with three of the top five sites for total mammal activity being urban—Urbana, Illinois.; Baltimore, Maryland.; and Washington, D.C.
"Our goal was to provide a space for researchers from all 50 states to contribute a subset of their data to a broader initiative to maximize our coverage of the country and better understand drivers of mammal distributions to best inform conservation as rapidly as possible," said the Museum's Curator of Mammalogy and lead author Michael Cove.
The scientists also conducted the survey in fall 2020. Resulting data, which will likely provide insights on the effects of the COVID-19 pandemic on wildlife distributions and habitat use, will be available when the eMammal database is updated in 2021.
Hawaiʻi researchers interested in contributing game camera data for the 2022 project can visit the Snapshot USA website to sign up to participate.
This work is an example of UH Mānoa's goal of Excellence in Research: Advancing the Research and Creative Work Enterprise (PDF), one of four goals identified in the 2015–25 Strategic Plan (PDF), updated in December 2020.