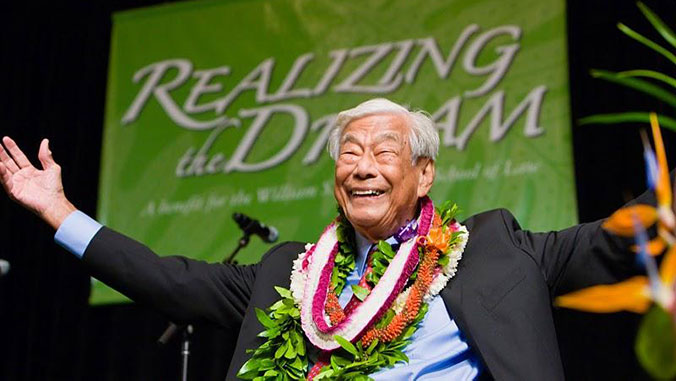 University of Hawaiʻi at Mānoa William S. Richardson School of Law Library Archives Manager, Ellen-Rae Cachola, received a grant to preserve and make accessible the papers of Chief Justice William S. Richardson, the founder of the UH law school. The grant is from the Hawaiʻi Council for the Humanities, through support from the National Endowment for the Humanities.
This collection documents Richardson's family and early history, World War II military service with the first Filipino infantry, government services with the Democratic Party, appointment as the Lieutenant Governor of Hawaiʻi, his position as the 16th Chief Justice of Hawaiʻi's Supreme Court, and service as a Bishop Estate Trustee.
In addition, Richardson collected papers related to the overthrow of the Hawaiian Monarchy, community efforts seeking to protect lands and waters from destruction and exploitation, and research on Native Hawaiian and Pacific Island cultures.
These papers are significant because they document what Richardson was able to contribute to advance Native Hawaiian civil rights. Richardson's judicial opinions embodied his vision to care for the islands' environment, which is important to Native Hawaiian cultural practices, and for the benefit of the Hawaiʻi community.
"Richardson had a political purpose rooted in his ancestry as a Native Hawaiian, while having a vision that Hawaiʻi could become a transformative place in partnership with its multicultural and globalized society. I think this vision was very much part of his founding vision of the law school," Cachola said.
Grant funds will be used to hire an archival assistant, as well as supplies for archival storage and preservation. The papers will be processed for long-term preservation, and to generate a finding aid, a tool to help find out more information about the collection. This finding aid will be made available online. A public event will take place toward the end of the grant cycle to announce how the public can access the collection for research and education.
This effort is an example of UH Mānoa's goal of Becoming a Native Hawaiian Place of Learning (PDF) and UH Mānoa's goal of Excellence in Research: Advancing the Research and Creative Work Enterprise (PDF), two of four goals identified in the 2015–25 Strategic Plan (PDF), updated in December 2020.