Single mom Mikyla Hiʻilani Thomas knows what it's like to worry about your next meal or where you will sleep. She knows about having to make that hard tradeoff between buying gas to get to school or buying food to eat.
The 30-year-old Mililani resident recalled when she attended UH Maui College more than a decade ago to pursue her passion in sustainable agriculture, right after graduating from Kaiser High School. Thomas lived with a handful of different people and "couch surfed" because her rented apartment was a 30-minute drive from the campus.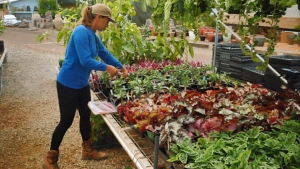 She described, "Not really knowing what dinner was going to be like. Not really knowing how I was going to afford my next meal, how I was going to afford gas to get to class."
She lost 20 pounds. At one point, she was so thin that her mother wondered if she was doing drugs. Getting to eat some of the harvest from her sustainable tropical crop management class on campus helped, but things got tougher after having two children.
"Being a mom is even more difficult, because you are feeding two others, and then on top of that you have to pay very expensive child care just to attend your classes," Thomas said. "That also puts a dent in how much you can spend on groceries per month."
Related UH News story: 58% of surveyed UH students hit with hunger, housing problems, June 21, 2021
Thomas currently works 40 hours a week, while earning her bachelor's degree in Sustainable Community Food Systems from the University of Hawaiʻi–West Oʻahu. Three days a week are spent as a sustainable garden educator and consultant/sales associate/greenhouse manager at Mari's Garden in Mililani. Tuesdays and Thursdays are spent working on an internship for a class in another garden located at Leeward Community College.
Food insecurity is no longer a problem. Thomas' sister lives nearby and often shares food with her, as do her neighbors.
"I'm very blessed to have people just delivering food to my family and I didn't ask them or expect it," she said. "But they see the hard work and the hustle and me watching the kids play in the grass while I'm typing on my computer."
Basic needs an issue for many students
She's not surprised by the findings of a recent UH survey that show that 58% of UH students surveyed last year experienced some type of basic needs insecurity. Basic needs include, but are not limited to, food and housing, clothing, childcare, mental health, financial resources and transportation. Thomas actually expected the percentage of students experiencing food insecurity to be higher than 39%.
"We are all one job away from not being able to afford groceries. It's all around us. It's within every community," she said, "Students shouldn't be focusing on fulfilling their basic needs. They need to be taking this time to better themselves, educate themselves and get the full experience of college."
Providing childcare on campus, especially for single parents, is just one of the ideas she has that could help. Thomas also has a suggestion aligned with her interest in sustainable agriculture.
"I think it would be really awesome to support local farmers by purchasing CSA boxes and then maybe having that provided to students who are food insecure or who have trouble with their basic needs," she said. "I think that would be great for our local economy, great for our local farmers and also improve the health of those students."
Bright future, hope for a better
Hawaiʻi
After she graduates in 2022, Thomas would like to teach gardening and sustainable agriculture at local high schools.
"It really wasn't until I was a mom that bettering my community and bettering my state became a priority–understanding that this is what my daughters will inherit," she said. "It really motivated me and kept me focused and organized to put my time into understanding the setbacks, the shortcomings and the opportunities that our state has. So that we could spread awareness about things that could be changed, for college students, for everyone."
Note: UH appreciates the support of many generous donors who have given in support of basic student needs over the years. If you are able to help, visit this UH Foundation page to donate to the campus or program of your choice.
—By Kelli Abe Trifonovitch