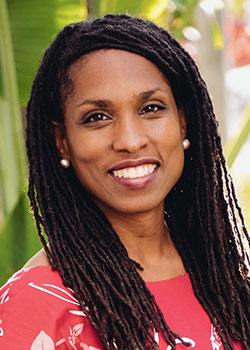 The University of Hawaiʻi William S. Richardson School of Law announced that Professor Maxine Burkett has been appointed to a senior position in the Biden Administration, working as a senior advisor with the Office of the Special Presidential Envoy for Climate (SPEC).
In the role, Burkett will be working with former Secretary of State John Kerry, who now serves as special envoy for climate. She will be working on international climate change issues and negotiations. Burkett has taught at the Richardson School of Law since 2009, has long served as a Global Fellow at the Woodrow Wilson International Center for Scholars in Washington, D.C., and in 2015 was appointed to serve on the Federal Advisory Committee for the Sustained National Climate Assessment.
"This is welcome news for island communities like ours and demonstrates how committed the Biden Administration is to building an extraordinary team to tackle the climate crisis," said Sen. Brian Schatz. "Hawaiʻi continues to produce national leaders in the climate and energy space that are helping navigate our country and—now in the case of Professor Burkett's appointment—the entire globe forward."
An expert in climate law and policy, Burkett has written extensively on climate change issues with a particular focus on climate justice—developing policy tools to address climate change impacts on frontline communities in the United States and around the world.
"The University of Hawaiʻi is immensely proud of Professor Burkett's appointment and we recognize the importance of having such a gifted and experienced professional step into this critical role," said UH Mānoa Provost Michael Bruno. "Maxine's knowledge and passion have inspired and informed so many of our students, and this knowledge and passion will now be put to use on a grand scale to address one of the greatest crises of our time—climate change."
Professor Burkett was also on the vanguard of providing real-world policy tools to local governments over a decade ago as the director of the Center for Island Climate Adaptation and Policy, providing early climate adaptation related documents, programs, and model policies for communities in Hawaiʻi and other Pacific Island nations.
"The University of Hawaiʻi and the William S. Richardson School of Law are leading the way in finding solutions to a most pressing issue facing humanity," said Camille Nelson, dean of the UH Richardson School of Law. "In 2009 we tapped Professor Burkett to help develop cross-sector solutions to climate change and develop a new model, and now she will be taking that island knowledge and experience into international discussions. We're incredibly proud of this appointment, and look forward to having her return to the classroom with even more knowledge and expertise after her role in the Administration."
Burkett will be taking a leave of absence from Richardson Law School during the appointment with the State Department, and stepping down from several local and national boards including the Blue Planet Foundation, The Climate Museum, Elemental Excelerator and the Global Greengrants Fund.
"As someone born in an island community in Jamaica, as an immigrant to the United States, and now raising my children in an island community here in Hawaiʻi, I'm very excited to bring these perspectives to the table as 21st century climate policy is developed," said Burkett. "It is time to treat the climate crisis like the emergency it is and I'm proud to be joining an administration that is restoring our international standing on climate issues and being crystal clear that equity must be part of all climate solutions."
For more information, see the UH law school website.
–By Beverly Creamer