A team of University of Hawaiʻi at Mānoa students introduced the world of robots to keiki at the Institute for Human Services (IHS) in Iwilei for UH Mānoa's "Be a Scientist" day on June 28. IHS is a human services agency focused on preventing and ending homelessness.
Ionica Macadangdang, a senior biological engineering major, and Evan Imata, a junior astrophysics major, provided a hands-on learning experience with Dash bots, which are miniature robots that can be controlled using a smartphone. The kids colored a picture of a dash bot and explored their creative imagination by illustrating a robot of their own, then operated and programmed the robots to perform complex maneuvers.
"It was really awesome, especially considering that a lot of kids have been out of the traditional classroom environment that they've been used to so being able to recreate that environment—which they thrive in—has been a really awesome feeling," Macadangdang said.
Imata added, "It was just interesting to see what kind of stuff they picked up on. They really liked coloring pictures of the robots and they liked having their robots interacting with each other."
UH Mānoa Department of Mathematics Professor Monique Chyba has organized "Be a Scientist" days for children and annual nights for families at IHS for more than 10 years. She says it provides an opportunity to teach Hawaiʻi's keiki about STEM, while also providing UH Mānoa students a chance to become teachers of their own.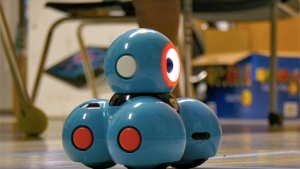 "It is one of the missions of the University of Hawaiʻi to reach out to our community and provide educational opportunities to Hawaiʻi's youth, especially when they are facing difficult challenges in life," Chyba said. "Collective efforts are key to create long lasting positive and meaningful impacts, and this is what this initiative is about. I am delighted to see the desire and drive of our undergraduate students to give back to their community, it brings so much hope looking into the future."
Chyba and the students will host two more "Be a Scientist" days in July. It is done in partnership with the UH Mānoa graduate student chapter of the American Mathematical Society.
"We are ecstatic that the UH team members are able to provide this great learning experience for the kids," IHS Children's Program Specialist Candice Moore said. "Our goal this summer is to provide fun activities as well as new learning opportunities for the children. This experience provided both and they loved it. Seeing them so happy is the highlight of the day."
Outreach program
Macadangdang and Imata's involvement in "Be a Scientist" day is just one part of their service with IHS. In spring 2021—with funding support from the UH Mānoa Student Equity, Excellence and Diversity (SEED) office—Macadangdang, Imata and another student, Elizabeth Peterson, provided virtual tutoring to IHS keiki during the pandemic. They also expanded the outreach program to work with two Hawaiʻi public schools. Chyba said their goal is to design a volunteer-based tutoring program provided by the UH Mānoa learning assistants program by fall 2021 to continue offering these services to the community.
"Monique Chyba has a strong commitment to public service in the community and is a stellar faculty member from UH Mānoa," SEED Coordinator Pua Auyong said. "For many years she has brought her math students to IHS to work with families and she tells me how transformative the experience is for her students. Monique has also brought her students to teach math and robotics to Molokaʻi, Maui and rural Oʻahu. She understands the disparities and inequities in our educational system and has brought fun and enriching math activities to so many."
This work is an example of UH Mānoa's goals of Enhancing Student Success (PDF) and Excellence in Research: Advancing the Research and Creative Work Enterprise (PDF), two of four goals identified in the 2015–25 Strategic Plan (PDF), updated in December 2020.
—By Marc Arakaki