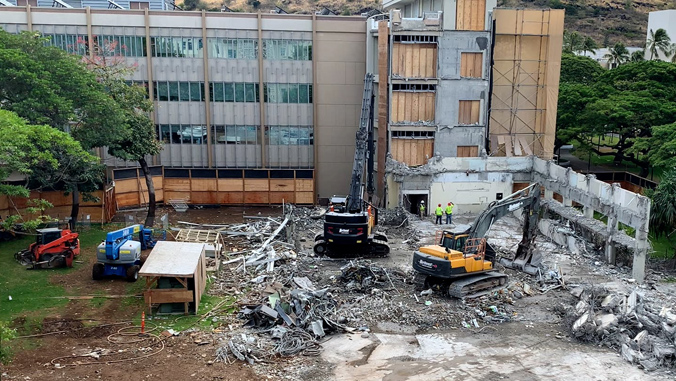 Construction crews finished tearing down Snyder Hall on iconic McCarthy Mall on the University of Hawaiʻi at Mānoa campus on July 2. The project is on schedule and will be completed before the start of the fall 2021 semester.
Site preparation started in the spring, with the actual demolition of the 59-year-old, five-story, concrete building beginning on June 2. Crews will now remove the remaining debris and prepare the site for temporary landscaping.
The state Legislature has provided $70 million in funding for a replacement building that will include flexible learning and office spaces that support modern methods of online delivery, collaboration and advising. The project is in the planning phases with construction tentatively scheduled to start in 2022/2023.
Snyder Hall's former occupants are now located in the $65-million Life Sciences Building that opened in July 2020.
The Snyder Hall demolition marks the start of Phase 2 of the UH Mānoa Mini Master Plan that includes the construction of a replacement building. Phase 1 included the demolition of Henke Hall in 2017 and the construction of the Life Sciences Building in its place on the Diamond Head end of McCarthy Mall.