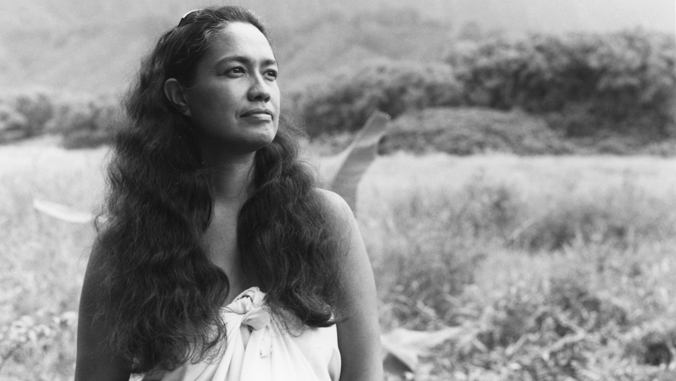 Hearts are heavy across Hawaiʻi and the world as many mourn the death of University of Hawaiʻi at Mānoa Professor Emerita Haunani-Kay Trask. Loved ones confirmed the exemplary Native Hawaiian scholar died on Saturday, July 3.
Trask who retired in 2010, started her extensive academic career at UH Mānoa in 1981 as an assistant professor in the American studies department with expertise in feminist theory and Indigenous studies. She is credited with co-founding the contemporary field of Hawaiian studies and went on to become the founding director of the UH Mānoa Center for Hawaiian Studies.
"Professor Trask was a fearless advocate for the Kānaka Maoli (Native Hawaiians) and was responsible for inspiring thousands of brilliant and talented Hawaiians to come to the University of Hawaiʻi," said Dean Jonathan Kamakawiwoʻole Osorio. "But she also inspired our people everywhere to embrace their ancestry and identity as Hawaiians and to fight for the restoration of our nation. She gave everything she had as a person to our Lāhui and her voice, her writing and her unrelenting passion for justice will, like our Queen, always represent our people. E ola mau loa e Haunani Kay Trask, ʻaumakua of the poet warrior."
"Dr. Trask was a visionary leader of the Hawaiian sovereignty movement and the founding director of Kamakakūokalani Center for Hawaiian Studies at UH Mānoa. She served her career as tenured professor in our department inspiring critical thinking and making important contributions in areas of settler colonialism and indigenous self-determination. More importantly, she was a bold, fearless, and vocal leader that our lāhui needed in a critical time when Hawaiian political consciousness needed to be nurtured. Our center mourns her passing and sends our aloha and to the Trask ʻohana. Our department remains committed to carrying on the legacy of Professor Trask in educating and empowering the lāhui," Kamakakūokalani Center for Hawaiian Studies Director Kekuewa Kikiloi said.
"The Native Hawaiian Place of Learning Advancement Office mourns the tremendous loss of Kumu Haunani-Kay Trask. We pause and reflect on her leadership and honor her as one of the founders of this office; as one of the members of the seminal 1986 Kaʻū Task Force and its subsequent report, the first of four Native Hawaiian reports to recommend and advocate for the creation of an office such as ours," said UH Mānoa Native Hawaiian Affairs Program Officer Kaiwipuni Lipe. "Furthermore, UH Mānoa's designation as a Truth, Racial Healing, and Transformation Campus Center—a campus that shows the potential to be a major player in jettisoning racism and preparing the next generation of leaders who will do so—builds on the foundation that Kumu Haunani helped to set at this university. She had an unwavering commitment to speaking truth to power and was a leader in normalizing that on our campus and throughout our communities. She was and continues to be a lamakū—a leading light—for all of us. Aloha wale ʻoe e Kumu Haunani, ē. E moe mālie aku ʻoe i ka pō loloa."
In April, Trask was elected to the American Academy of Arts and Sciences, among the nation's oldest and most prestigious honorary societies. The induction, set for spring 2022 will place her alongside other notable lifetime members including John Adams, Charles Darwin, John F. Kennedy, Martin Luther King, Jr., and more than 250 Nobel and Pulitzer Prize winners. It is one of the highest honors bestowed in academia.
"The University of Hawaiʻi mourns the loss of Professor Haunani-Kay Trask, a profound mind who was one of our most influential teachers and scholars," said UH President David Lassner. "She provided all of us at UH and in Hawaiʻi with opportunities to learn and grow as we each reconsider our roles and kuleana in Hawaiʻi. Her relationship with the University of Hawaiʻi was complex, and we are a better institution for her passion, insights, criticisms, advocacy, contributions and influence. My deepest condolences to her life partner, Professor David Stannard, her ʻohana, the generations of students she taught and mentored over the years, and all who loved her."
Trask, a Windward Oʻahu native was a critical voice in what she called, "the modern Hawaiian movement" and the broader Hawaiian sovereignty movement. Throughout her career she advocated for issues which support Indigenous nations around the globe. She worked with leaders in Indigenous communities from throughout North America to the Māori of Aotearoa (New Zealand) and the Basque people of Spain among others. Her international reputation led to her addressing United Nations gatherings in Geneva, Switzerland and Durban, South Africa.
Nourish the next generation
Stemming from a notable lineage of politicians and civil servants in Hawaiʻi, Trask made it her mission to fight for kānaka maoli (Native Hawaiians) rights and lands, all while encouraging the younger generation of kānaka attending the university to embrace their heritage.
In 2019, Trask received the Angela Y. Davis lifetime achievement award by the American Studies Association. The honor recognizes scholars who have applied or used their scholarship for the public good. Trask also graced USA Today's Women of the Century, which highlights women across the nation and U.S. territories who have motivated and inspired others.
Her legacy also lives on through the David E. Stannard and Haunani-Kay Trask Endowed Scholarship in American Studies which supports UH Mānoa American studies students who are pursuing research in Indigenous and/or Pacific Island studies.