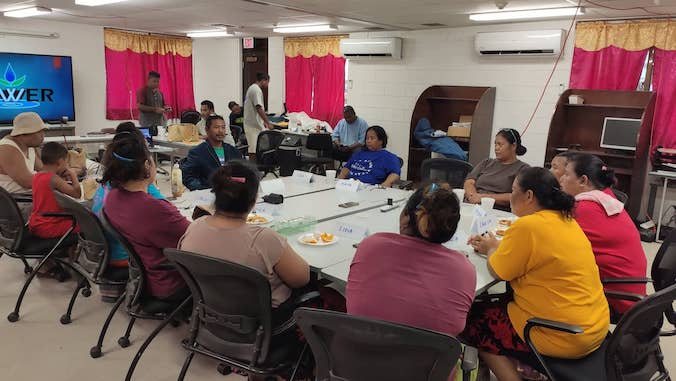 Oral cancer is the most commonly diagnosed cancer in Yap, making up 24% of all cancer cases in the state. In Yap's island community of Satawal, educational materials about oral cancer are predominantly in English, which has created a major barrier to meaningful learning. A University of Hawaiʻi Cancer Center-funded pilot project will help address the oral cancer disparity within the island, located in the Federated States of Micronesia (FSM), about 4,450 miles from Hawaiʻi.
Currently, no educational resources on oral cancer have been translated to Satawalese or any of the other three languages spoken by the people of Yap. The pilot project seeks to determine if the people of Satawal find that the use of culturally appropriate educational tools for oral cancer awareness leads to an improvement in knowledge, attitude and behavior toward oral cancer.
Funding and support
As the only National Cancer Institute-designated cancer center in the Pacific, the UH Cancer Center conducts and supports research focusing on key cancers that directly and significantly impact communities in Hawaiʻi and the Pacific. The Trans-Pacific Partnership for Cancer Prevention, established by the UH Cancer Center in 2017 to support cancer prevention research activities across the Pacific, will help support this new initiative in Yap.
In 2021, the UH Cancer Center established a new fund to support pilot cancer prevention projects to be conducted by local agencies, offices and groups within various Pacific Island jurisdictions. The Yap study will receive approximately $12,000 from the UH Cancer Center.
"We are happy to have the opportunity to support this type of research in Yap, and we hope that this project can be used as a model for other communities to make cancer information and education more accessible to all," said Randall Holcombe, UH Cancer Center director.
Findings from this study have the potential to inform next-step interventions that are culturally appropriate and reproducible in the other two Outer Island language-speaking populations, Ulithian and Woleaian.
"This is our first time applying for a research project of this nature and we are excited at the prospects this project's process and outcomes will generate to improve our work within our underserved communities," said Martina Reichhardt, cancer program director of Yap State, FSM.
This research is an example of UH Mānoa's goal of Excellence in Research: Advancing the Research and Creative Work Enterprise (PDF), one of four goals identified in the 2015–25 Strategic Plan (PDF), updated in December 2020.