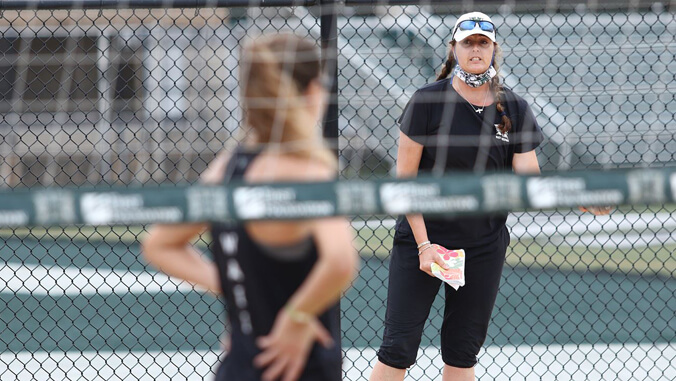 Angelica Ljungqvist, University of Hawaiʻi at Mānoa head coach of the beach volleyball program and associate coach of the women's indoor volleyball program, will step down on July 20.
Ljungqvist, a former four-time All-American, the 1996 National Player of the Year and a UH Sports Circle of Honor inductee, returned to Mānoa in 2017 to join Robyn Ah Mow's indoor staff. The native of Vallentuna, Sweden, helped lead the Rainbow Wahine to three straight NCAA tournament appearances and the 2019 Big West regular-season title.
"This was a very difficult decision, and it's heartbreaking to say goodbye," Ljungqvist said. "Returning to my alma mater to coach was a dream come true. I'm truly grateful to Robyn and the administration for giving me this opportunity. It has been an honor and privilege to represent UH, the state and the people of Hawaiʻi, and I am so blessed to call Hawaiʻi home. However, right now, it's important for me to be close to family in Sweden. I give all my aloha to our Rainbow Wahine players, coaches and staff and also extend a warm mahalo nui loa to our fans for welcoming me back to Hawaiʻi a second time. I know both the indoor and beach teams have spectacular years ahead of them and I look forward to cheering them on."
"Ang has been a tremendous asset to the success of our program, but more importantly she was a role model for these young women," Ah Mow said. "She is the face of Hawaiʻi volleyball. Despite not being from the islands, she knew what it meant to be a Rainbow Wahine and to represent Hawaiʻi. We're so fortunate that she left this gift with our student-athletes, and the hope is they take it and use it in everyday life! She will be sorely missed. Outside the program, no one knows how much time and dedication our coaches spend for the program, and Ang gave everything she had. I wish her and her family the best and hope our paths will meet again!"
In August 2020, Ljungqvist was named the beach volleyball program's head coach. In 2021, the team finished 17-10 overall and advanced to the Big West Tournament finals for the fifth straight time.
"Angelica has been an instrumental part of our women's volleyball program, first as a student-athlete and most recently as a coach," Athletics Director David Matlin said. "Her dedication and passion have always been first-rate. This was particularly evident when she stepped up to become our head beach volleyball coach in addition to her indoor duties. We wish her well and thank her for the impact she's made, particularly with our student-athletes."
The search for a new beach volleyball head coach will begin immediately. Evan Silberstein will serve as interim head beach volleyball coach until the search is completed.