Fire, ice and smoke! No, it's not Eurovision. It's the Culinary Innovation Center in the University of Hawaiʻi's Culinary Institute of the Pacific on Diamond Head, where students in the "Food Science and Modernist Cuisine" 300-level class master novel culinary techniques.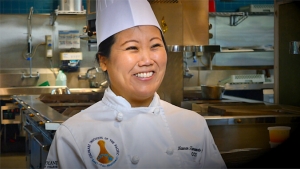 "I like to play and have the students play, experiment with different food-grade chemicals," explained instructor Lauren Tamamoto, coordinator of Kapiʻolani Community College's Culinary Innovation Center. "There's a lot of trends out there with food, and we try to break it down and reverse engineer food items that are out there at restaurants."
Student Carson Yoshioka already planned to use the newly mastered "meat glue" technique, the transglutaminase-fusion of different proteins that produced a succulent medium-rare piece of beef with a savory filling, at his part-time job at Dean and Delucca.
"My most valuable lesson that I learned in this class was working with new types of ingredients and chemicals," Yoshioka said. "What I like about it is that when I come to class, I get to learn something new every day."
Culinary Institute of the Pacific advances with $1.1M in new gifts
—July 11, 2021
Sierra Bumangang said her favorite new technique was spherification, making "caviar" or boba-type spheres of liquid out of everything from salad dressing to syrup toppings for ice cream.
"This class shows unique things with different chemicals, so that's really fun," Bumangang said.
What appeared to be smoke billowed out of the stainless steel mixer where student Michael Dunn had just added liquid nitrogen to cryogenically freeze ice cream. He had been visualizing a dessert of ice cream (made of rice), topped with balls of mango formed using the spherification technique.
Dunn said, "In the long, long, long-term, I would have my own pizza place or just bakery in general, just so I could test some weird ideas and concepts. Which is, by the way, part of the reason I like this class."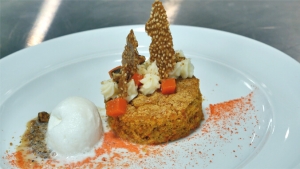 And that's exactly the attitude Tamamoto wants from her students.
"I want them to have that desire to question, and to know and to experiment, and I want them to also know the science behind what they're doing," she said. "I want them to be able to troubleshoot when they are out in the industry. I want them to be thinkers."
"Food Science and Modernist Cuisine" is one of the 300-level courses required for an advanced professional certificate. During the COVID-19 pandemic, the course was substituted for 200-level internships, which were difficult to come by, so that students who were on track could meet their goals of graduating with their associate's degrees on time in spring 2021.
Tamamoto said, "If you like experimenting, you like science and culinary arts, this is the perfect class for you to take."
—By Kelli Abe Trifonovitch