The climate crisis is impacting the world at an alarming rate. Droughts threaten crops and water supplies. Floods, rising sea levels and other extreme weather events are becoming more frequent. And in Latin America, home to nearly 25% of the Earth's forests and arable land (suitable for growing crops), and more than 30% of the world's water resources, according to the Nature Conservancy, the effects of global warming are even more pronounced.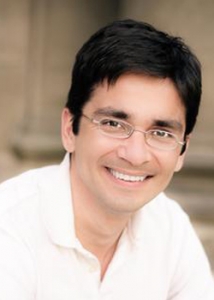 On July 17, Camilo Mora, professor of geography in the University of Hawaiʻi at Mānoa's College of Social Sciences, joined Nobel Laureate and former U.S. Vice President Al Gore and Mexican ecologist and environmentalist Julia Carabias Lillo for a scientist question-and-answer panel on global warming. Part of a Latin America Virtual Climate Reality Leadership Corps Training event, the goal of the panel was to provide expert perspectives on the topic and help nurture the next generation of climate change agents.
"Why are Latin America countries more affected by climate change? There are two key reasons," said Mora. "First, the tropics have not been exposed to this level of climate change in the past. Second, these countries do not have financial resources to adapt and respond to these climate challenges. It is a matter of capacity and resources. Their systems are not positioned to respond to climate change and are taking a hard hit."
Combating climate change will require two things: understanding the danger the world faces, and a recognition and willingness to act quickly to support a more sustainable future, according to the UH Mānoa professor.
"Some impacts are not reversible. Thousands of species are already extinct," said Mora. "But if we change the way we interact with nature, if we support sustainable biodiversity, we can stop things from getting worse."
Mora believes that the practices and beliefs of Indigenous cultures hold a wealth of knowledge that can help create a more sustainable future. "I met an elder the other day who was volunteering at one of our tree-planting events. He said, 'In Hawaiʻi, there is a saying that the forest brings the rain.' The next day, researchers released evidence (statistical analysis and modeling) that planting forests in Europe could increase rainfall," said Mora. "So we have the means, technologies and answers to create a sustainable future. But it starts with us—with a change in our attitudes."
The Latin America Virtual Climate Reality Leadership Corps Training event was hosted by the Climate Reality Project. Founded in 2006 by Gore, the Climate Reality Project is a consortium of diverse individuals—from scientists to cultural leaders and storytellers—who are committed to building a sustainable future.
This work is an example of UH Mānoa's goals of Building a Sustainable and Resilient Campus Environment: Within the Global Sustainability and Climate Resilience Movement (PDF) and Excellence in Research: Advancing the Research and Creative Work Enterprise (PDF), two of four goals identified in the 2015–25 Strategic Plan (PDF), updated in December 2020.