A University of Hawaiʻi program designed to enrich the quality of life of its students and the community by increasing their ocean awareness, understanding and appreciation is celebrating its "golden" anniversary. The Marine Option Program (MOP) turns 50 years old in fall 2021.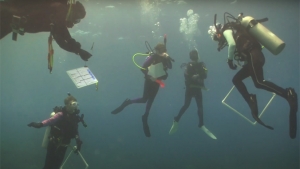 Started in 1971 by pioneers John Craven and Jack Davidson, MOP has turned into one of the most dynamic and inclusive programs in the UH System. Not only is it open to students of all majors across the 10-campus system, MOP prides itself on the experiential marine-related education it provides. Students enrolled in the program are required to complete 12-16 credit hours of marine-related courses, an interdisciplinary studies seminar course and a final project. More than 2,000 students have graduated from MOP in its 50-year history.
"We are very excited to celebrate MOP's 50th," said Cynthia Hunter, MOP director and professor of marine biology at UH Mānoa. "Literally thousands of alumni have gone through this program that supports students by preparing them for careers in marine-related fields through hands-on experiences."
From the beginning
MOP started as an experiential program organized by faculty and students, and funded primarily by the state legislature and grants. Because UH did not offer a marine science-related degree at the time, MOP was created to give students an opportunity to gain experience in this field.
Thomas Iwai Jr. grew up in Hawaiʻi and loved the water. He was also hooked on a popular TV series in the 1960s called The Undersea World of Jacques Cousteau, which featured the aquatic explorations of the legendary French explorer. Iwai Jr. appreciated the program's hands-on approach and eventually became MOP's first graduate in 1972.
Iwai Jr. credited his experience in MOP volunteering with expert Takuji Fujimura at the Ānuenue Fisheries Research Center (AFRC)—part of the State of Hawaiʻi Department of Land and Natural Resources (DLNR)—with kick-starting his interest in freshwater prawn culture. He later went on to work with many other freshwater and marine species at AFRC to help in the development of an aquaculture industry in Hawaiʻi.
"I can't believe it's been 50 years," Iwai Jr. said. "When the program started, there was a need to try and network and gain experience, especially in the marine field. The creation of the program offered that avenue to students, especially local students. It just so happened that I heard about the program and what they were trying to do and offered whatever help I could as a student to initiate the Marine Option Program."
Educating future marine experts
Since 1971, MOP has achieved major milestones, including expanding to all UH campuses; conducting important research such as the Hawaiʻi state fisheries plan, a Kahoʻolawe marine study and green sea turtle projects; hosting dozens of educational events for the community; and jumpstarting the careers of experts in the marine field in Hawaiʻi and across the globe.
Athline Clark is the National Oceanic and Atmospheric Administration (NOAA) superintendent of Papahānaumokuākea Marine National Monument. She is also a local girl who loves the ocean. She has more than 30 years working in communities and to conserve ocean resources, including in an advisory capacity for the Florida Keys and Hawaiian Islands Humpback National Marine Sanctuaries. She was the State of Hawaiʻi co-manager prior to her role with NOAA as the superintendent.
Clark said during her time in MOP, she learned about the Northwestern Hawaiian Islands through a collaborative research initiative. That kickstarted her fascination with the region, a place where she has worked for many years since.
"No other programs at UH, that I am aware of, provide the well rounded aspects of hands-on experience and studies that are provided by MOP for those interested in a career in the marine field," Clark said. "In addition to my career, many of my staff and many of the leadership in NOAA are MOP alumni."
One of them is Randy Kosaki, who is the research coordinator at Papahānaumokuākea. Kosaki still uses the "tools of trade" he learned through MOP's Quantitative Underwater Ecological Surveying Techniques (QUEST) program. He said his first trip to the Northwestern Hawaiian Islands was as a MOP undergraduate intern with DLNR. Twenty-five expeditions later, he said that trip was still one of the highlights of his life.
"That sense of wonder about the natural world that was instilled in me as a MOP student is still the driving force of my career," Kosaki said. "MOP and QUEST have opened doors and provided career opportunities for me in ways that I never could have imagined possible."
Clark and Kosaki continue to create more opportunities to give back to MOP's current students through scholarships to QUEST. For more than 10 years, he and other NOAA researchers have taken MOP students on annual research cruises to the Northwestern Hawaiian Islands. The students collect data alongside scientists, and often co-author peer-reviewed publications.
"It gives me hope for the future of our oceans when I see the work ethic and enthusiasm of these young scientists. They are the ones who will be caring for our ocean resources long after we're retired," Kosaki said.
This program is an example of UH Mānoa's goals of Enhancing Student Success (PDF), Excellence in Research: Advancing the Research and Creative Work Enterprise (PDF) and Building a Sustainable and Resilient Campus Environment: Within the Global Sustainability and Climate Resilience Movement (PDF), three of four goals identified in the 2015–25 Strategic Plan (PDF), updated in December 2020.
—By Marc Arakaki