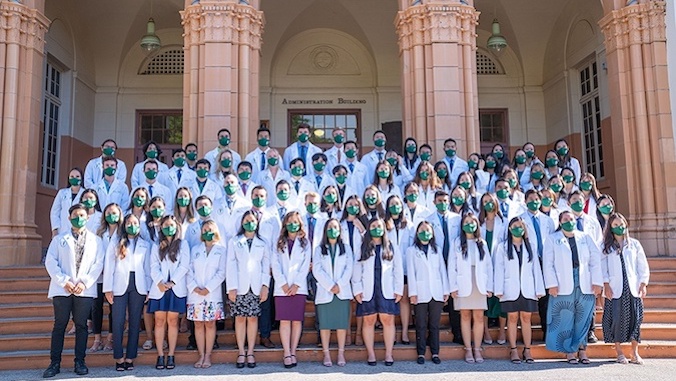 The University of Hawaiʻi at Mānoa John A. Burns School of Medicine (JABSOM) welcomed 77 new MD students at its annual White Coat Ceremony. Each student was presented with a crisp white coat embroidered with a green JABSOM logo and their name across the front. The UH med school held the annual event on July 23 at the McKinley High School Auditorium, officially ushering in the MD Class of 2025. The milestone recognizes the beginning of their medical careers with their first physician's white coat, a shorter version of the frock of their future profession.
"Tonight is a day I've looked forward to for many, many years. The white coat to me, before I started this first week of medical school, meant the day of accomplishment and everything I've been working towards, but as we've been hearing from some of our mentors, the doctors and the faculty talk about the significance of the white coat, I'm realizing that it's actually symbolic of dedicating my life to service and to the patient," said Kelly Watanabe, first-year medical student from Kaimukī. "I feel very privileged, honored and blessed to be in this position where I can help patients at their most vulnerable times."
The hybrid ceremony was limited to two guests per student, as well as few faculty, staff and volunteers. Others were encouraged to join via livestream. The evening began with a special chant in ʻōlelo Hawaiʻi (Hawaiian language) as the students walked into the auditorium. They were "cloaked" onstage by either JABSOM faculty, a family physician or a physician mentor and ended the night reciting the physician's creed, the Hippocratic Oath.
The new MD class is composed of mainly local students: 85% are from Hawaiʻi including five from Hawaiʻi island and two from Maui. The remaining are from Guam, Canada and the mainland U.S. including California, Colorado, Illinois, Massachusetts, New York and Oregon. This year, eight students are of Native Hawaiian ancestry. Other minorities include Filipino (9), Guamanian (1), Samoan (1) and Mexican/Chicano (1). Approximately 31% graduated from the UH system. Seven students matriculated into JABSOM after graduating from the yearlong ʻImi Hoʻōla Post-Baccalaureate Program, which provides a pathway into medicine for students from disadvantaged and underserved communities.
To read more, go to the JABSOM website.
This event is an example of UH Mānoa's goal of Enhancing Student Success (PDF), one of four goals identified in the 2015–25 Strategic Plan (PDF), updated in December 2020.