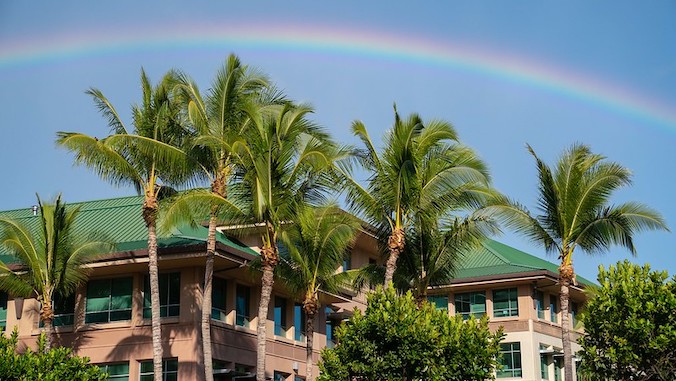 The University of Hawaiʻi and The Queen's Health Systems (Queen's) announced a three-party affiliation agreement between UH Mānoa's John A. Burns School of Medicine (JABSOM), Queen's and University Health Partners of Hawaiʻi (UHP). This affiliation agreement, expected to be operational by September, will expand medical education and research, engage the next generation of healthcare professionals and improve the health and well-being of the people of Hawaiʻi.
UH is currently working with another one of its valued healthcare partners, Hawaii Pacific Health, to develop a separate affiliation addressing the departments of Pediatrics, OB/GYN and Family Medicine.
The new affiliation agreement with Queenʻs will benefit patients and the community by:
Strengthening and enhancing the education of the next generation of medical students, residents, fellows and other health professionals in

Hawaiʻi

.
Attracting and retaining talented faculty, physicians and researchers in

Hawaiʻi

.
Expanding clinical and research programs and providing opportunities to create innovative models of care.
Enhancing teaching, research and community service missions.
Encouraging and creating pathways for the next generation of healthcare professionals to provide care in our state.
Improving each organization's ability to meet the needs of vulnerable communities and address health inequities.
Accelerating the achievement of improving the overall health of communities served.
A key component of this affiliation agreement is the creation of a combined physician group to be named The Queen's University Medical Group (QUMG). This group of more than 450 providers, representing 17 specialties, will further strengthen high quality, compassionate care, innovation, research and education in Hawaiʻi.
As part of the QUMG, UH faculty will be employed and supported by Hawaiʻi's largest clinical site for training medical students and more than 100 residents and fellows from JABSOM. Queen's will ensure the medical group has the support needed to meet educational needs. JABSOM will oversee the academic activities of the faculty, and UHP will help sustain support of JABSOM's teaching and research mission.
"This opportunity to align the clinical care and academic roles of those working at Queen's to enhance training of our learners will transform medical education and research at JABSOM. We look forward to working with Queen's through this new affiliation to help support Hawaiʻi's healthcare training and service needs for the future," said Jerris Hedges, dean of JABSOM.
"By unifying our practices, we will strengthen the education and development of the next generation of caregivers in a culturally grounded way, infuse research and innovation into our delivery systems, and expand and improve key clinical programs," said Jill Hoggard Green, CEO of The Queen's Health Systems. "We look forward to enhancing our already strong and longstanding partnerships with the university to achieve our shared goal of improving the health of our communities, both now and in the future."