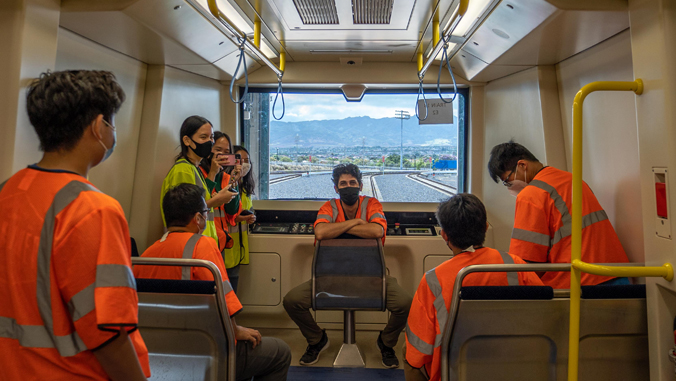 A new summer engineering program provided 20 high school students from across the Pacific with an immersive learning experience in STEM (science, technology, engineering and mathematics). Hosted by the University of Hawaiʻi at Mānoa College of Engineering, the inaugural Pacific Summer Transportation Education Program, June 7–30, welcomed students from Hawaiʻi in-person, and from American Samoa and the Commonwealth of the Northern Mariana Islands virtually.
Despite COVID-19 restrictions, Department of Civil and Environmental Engineering Assistant Professor Roger Chen and his team were able to offer the students activities that introduced them to careers in transportation and STEM fields. Activities included a combination of educational field trips throughout Honolulu, and in-class modules with UH faculty and transportation professionals. Students learned about problems in transportation and how engineering solutions require a strong vision, careful measurement and data collection through first-hand observations/experience, and knowing the end-user well.
"The feedback was overwhelmingly positive from students across all jurisdictions," Chen said. "Many students indicated they were not certain of what to expect coming into the camp, but left with a greater appreciation of STEM and transportation as a career path, an understanding of engineering design problems, and, overall, a fun experience! Many of them consider UH Mānoa as a serious option for pursuing a degree in engineering or other STEM fields."
Camp experiences
The group's main project was focused on improving pedestrian and bicycle safety at the intersection of King Street and Isenberg Street, less than a mile away from the UH Mānoa campus. Students learned about the concept of "complete streets" and how engineering design requires analysis that considers end-users, which include, in this case, bikers, pedestrians, transit operators and personal vehicle drivers. The biggest challenge was developing a design solution that meets the needs of a wide range of travelers. The students presented their final solutions to the Complete Streets Group at the City and County of Honolulu Department of Transportation Services.
Students also experienced a traffic intersection tour of Honolulu, hosted by SSFM International, and field trip visits to the new interisland terminal at Daniel K. Inouye International Airport, the Honolulu Authority for Rapid Transportation operations center, Elemental Excelerator, Hawaiʻi Department of Transportation's (HDOT) Sand Island Scale Facility and the HDOT Materials Testing and Research Facility.
Program team
Chen's team included Department of Mechanical Engineering undergraduate students Allen Lum and Josh Tritt who helped with the audio-visual experience, and Department of Urban and Regional Planning graduate students Poya Harirchi and Da Yea Shim who served as group project mentors and camp counselors.
The camp was also supported by HDOT and the American Samoa and the Commonwealth of the Northern Mariana Islands Departments of Public Works. Funding was provided by the Federal Highway Administration through these agencies.
Challenges
One of the challenges for Chen's team this year was managing the different time zones as the Commonwealth of the Northern Mariana Islands is 20 hours ahead of Hawaiʻi and 21 hours ahead of American Samoa. The solution was a combination of live-streaming for field trips and in-class modules, combined with synchronous group work online with collaborative tools often used for cross-disciplinary teams dispersed across the globe. Recorded videos were also posted online and available asynchronously.
Although this year's program just concluded, Chen is looking forward to welcoming all students in-person next summer.
"We will also have new activities, sites to visit and a new group project, all focusing on the gradual electrification and automation of our transportation systems as its main theme," Chen said.
This program is an example of UH Mānoa's goal of Enhancing Student Success (PDF), one of four goals identified in the 2015–25 Strategic Plan (PDF), updated in December 2020.