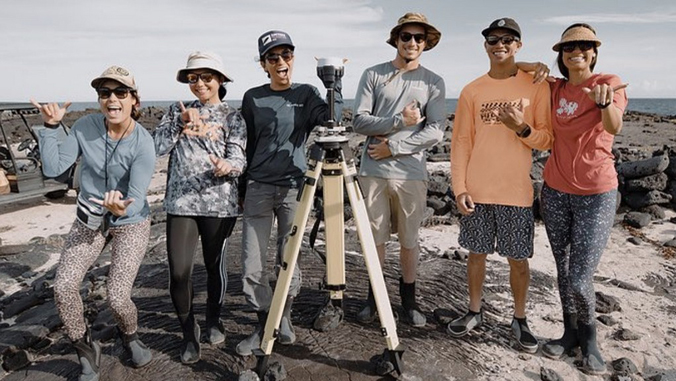 Scholars from the University of Hawaiʻi at Hilo and UH Mānoa are part of a hui (group) of Native Hawaiian researchers that departed from Kāneʻohe Bay on July 31 to begin a 15-day scientific research voyage to the Papahānaumokuākea Marine National Monument. The goal of the trip is to collect data to help create better management strategies to deal with climate change and sea-level rise affecting communities in the younger islands.
The researchers aboard the Makani ʻOlu, a 96-foot triple-masted schooner, will contribute their areas of expertise which include investigating ʻopihi as an indicator of climate change and analyzing kupuna (elder) coral and sediment.
Researchers
UH Hilo
Haunani Kāne, National Science Foundation (NSF) Postdoctoral Fellow
Lauren Kapono, Tropical Conservation Biology and Environmental Science
Aloha Kapono, Tropical Conservation Biology and Environmental Science
Kainalu Steward, Tropical Conservation Biology and Environmental Science
UH Mānoa
"We hope that our trip will help to inspire other Native Hawaiians to push the boundaries of Hawaiian perspectives in their field, even when they feel like their voice is the minority," said Kāne who is an assistant professor at the Center for Global Discovery and Conservation Science at Arizona State University (ASU). "This will be the first time that an entire crew of Hawaiian scientists will lead research in Papahānaumokuākea under a research permit, and our research will directly contribute to four Native Hawaiian graduate degrees and an early career professor."
The 12-member hui (group) will visit the most eastern islands in the monument: Nīhoa, Mokumanamana and Lalo (French Frigate Shoals).
The researchers will collaborate on two separate scientific studies on sea-level rise and intertidal fisheries management, working alongside each other during field work and expanding on future cross-collaborations.
Led by Kāne, the first study will identify shifts in dominant sediment types and their sources from the nearshore reefs at Lalo. In 2018, Hurricane Walaka devastated this area and resulted in the loss of an entire islet and large expanses of pristine reef. The study seeks to improve understanding of the potential loss and timescales for recovery of critical habitat following extreme storm events. It will also focus on learning more about how the predicted increased sea-level rise and hurricane activity in Hawaiʻi will impact essential habitats for priority species, such as sea turtles, monk seals and various seabirds.
The second study will be conducted by non-profit organization Nā Maka Onaona in partnership with UH Mānoa and UH Sea Grant to build on more than a decade of monitoring the Hawaiian intertidal fishery in the main Hawaiian Islands and Papahānaumokuākea.
This summer's scientific research voyage is supported by the Office of Hawaiian Affairs (OHA), National Fish and Wildlife Foundation, NSF and ASU.
"These researchers are following in the footsteps of our kūpuna as they use our native language, traditional protocols and cultural worldview to pursue a better understanding of our environment and develop new methods to help us survive in our island home," said Carmen Hulu Lindsey, OHA board chair.
For more go to UH Hilo Stories.
—By Susan Enright
UH Mānoa's participation in this research voyage is an example of its goals of Becoming a Native Hawaiian Place of Learning (PDF), Enhancing Student Success (PDF), Excellence in Research: Advancing the Research and Creative Work Enterprise (PDF) and Building a Sustainable and Resilient Campus Environment: Within the Global Sustainability and Climate Resilience Movement (PDF), the four goals identified in the 2015–25 Strategic Plan (PDF), updated in December 2020.