The University of Hawaiʻi at Mānoa College of Education (COE) has been awarded a full seven-year accreditation for its educator preparation programs by the Association for Advancing Quality in Educator Preparation (AAQEP) after an extensive review of evidence collected through self-study and peer review. In addition, the COE has the first doctoral programs to ever be accredited by AAQEP.
"Our AAQEP accredited programs engaged in a rigorous multi-year process that allowed us to highlight our strengths, showcase innovative practices and identify areas for further improvement," stated COE Director of Assessment, Accreditation and Accountability Jessica Miranda. "This was a team effort that would not have been possible without the dedication and hard work of our program assessment coordinators, AAQEP self-study writing team members and exceptional COE community."
AAQEP President and CEO Mark LaCelle-Peterson commended the college's programs for giving careful attention to systematically using evidence for improvement and to meeting individual candidate and community needs. He cited the COE master's and doctoral programs for extending opportunities for graduate study across Hawaiʻi and throughout the region to American Sāmoa and other island communities.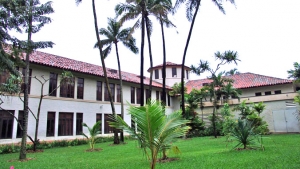 "The University of Hawaiʻi at Mānoa College of Education's innovative application of AAQEP standards to these research-focused programs provides a framework for acknowledging successes and strengthening ongoing efforts toward the creation of a distinctively Hawaiian place of learning," LaCelle-Peterson said.
National accreditation assures the quality of professional preparation programs through a nongovernmental, nonregulatory process of self-study and peer review. This standards- and evidence-based process serves to ensure accountability and continuous improvement. The AAQEP model is also designed to honor local context and foster innovation and collaboration among institutions.
COE Dean Nathan Murata said, "The recent AAQEP announcement for a full seven-year accreditation for both our initial teacher licensure and advanced programs is fantastic news during this challenging time for all. I am proud of our award-winning programs, which are a testament to our faculty, staff and students who excel at the highest level. We continue to collect, monitor and evaluate our data systems in order to maintain our high level of quality education."
This is an example of UH Mānoa's goal of Enhancing Student Success (PDF), one of four goals identified in the 2015–25 Strategic Plan (PDF), updated in December 2020.
—By Jennifer Parks