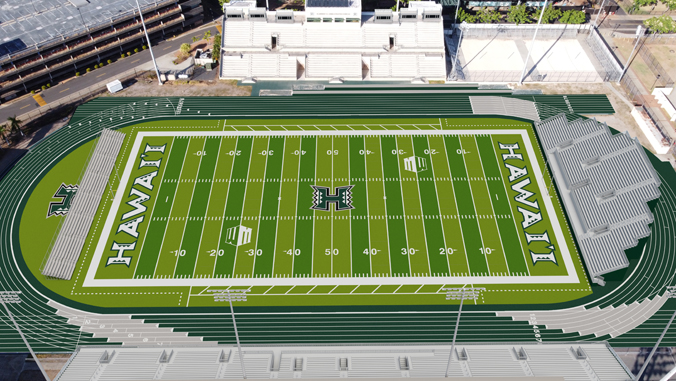 Editor's note: 2022 UH football home game schedule and parking information
For the first time in the University of Hawaiʻi at Mānoa's 114-year history, regular season football games will be held on campus. That move will have an impact on parking availability on game days.
The shift to campus was made after officials informed UH in December 2020 that Aloha Stadium, home to the Rainbow Warriors since 1975, would not be able to host fans starting with the 2021 season. The move to bring football on campus has generated a considerable amount of excitement among the UH Mānoa community and many across the state.
For 2021, there will be six games on campus. All will be played on Saturdays.
UH Football 2021 home game schedule
September 4—Portland State
September 18—San Jose State
October 2—Fresno State
October 23—New Mexico State
November 6—San Diego State
November 20—Colorado State
Preliminary parking plans
Parking plans are still being finalized, but UH Mānoa officials provided some early details of what to expect for game days.
Football parking locations:
Zone 20 Parking Structure: The Zone 20 parking structure will be restricted to only those who purchase a "football parking pass." Regular UH parking passes will not be recognized. Starting midnight the night before game days, the Parking Structure will be closed. Student residents and permit holders who normally park in the Zone 20 parking structure by the Ching Field Athletic Complex will be required to relocate their vehicles by 9 a.m. on game day.
Zones 1, 2, 3, 4 (except near Agricultural Sciences), middle and upper 9, 12, 13, 17, 18 and 19: These zones will be restricted to football parking, and all permit holders are required to relocate their vehicles by 9 a.m. on game day. Regular UH parking passes will not be recognized.
All green stalls are restricted to football parking only from 9 a.m. on game day.
Student and employee parking locations:
Zones 4 (by Agricultural Sciences) and 5: All UH Mānoa parking passes will be honored at Zone 4—Agricultural Sciences and Zone 5—Biomedical Building parking lot on a first-come, first-served basis.
Zone 7 and lower portion of Zone 9: Student-residents with Zone 20 permits may park at the

Hawaiʻinuiākea

School of Hawaiian Knowledge parking lot (Zone 7) and NOAA parking lot across from Frear Hall (lower portion of Zone 9) on a first-come, first-served basis.
Zones 8, 21, 22 and 25: No changes.
At this time, we are anticipating a sold out event. However, restrictions on gatherings at the football games may impact the number of restricted stalls on campus.