Being among the first students to attend Leeward Community College in 1968 was challenging for Harvey Ouchi.
"My high school teachers put a scare into me (about going to college)," Ouchi recalled. The legitimacy of the new college also came into question. "Since we were the first students, we didn't know if the credits would transfer (to the University of Hawaiʻi at Mānoa), but I decided to stay and take a chance and I'm glad that I did."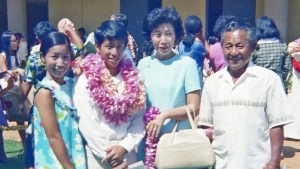 Ouchi initially wanted to be an engineer and had been accepted into UH Mānoaʻs College of Engineering. But with classes offered closer to his home in Pearl City at just $25 per semester, Leeward CC was too good to pass up. And the college provided the perfect opportunity to begin his higher education journey in a comfortable environment.
"The teachers were fantastic. They were very nurturing and committed—they gave that personal touch," Ouchi said. "I think I would have had a hard time if I went straight to a university.
"I sat right in the back of (former newscaster) Emme Tomimbang. I didn't know who she was at the time, but even back then she was such a nice person."
He graduated from Leeward CC in 1970, the same year he realized that his true passion was in education. Ouchi enrolled in the College of Education at UH Mānoa and earned bachelor's and master's degrees. He enjoyed a long career as a math teacher, counselor and eventually as a vice principal and principal for schools on Oʻahu, and on Kauaʻi.
Ouchi achieved another milestone when he retired from the Department of Education's Office of Special Education Programs, where he had worked for 17 years. His successful career in education, devotion to supporting and shaping the lives of thousands of students, and wish to continue to give back to the community are all gifts.
Back to the future
Ouchi is currently planning to enroll in Leeward CC classes through the Senior Citizen Visitor program. He believes the college continues to serve the community and help others like himself.
"I like to think that it's a hub so that people from all walks can have the opportunity—I like to think that Leeward is that vehicle that helps people reach their dreams," he said.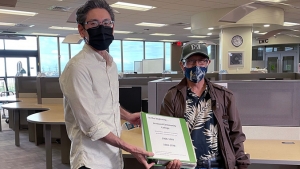 As a member of the first class at Leeward CC, not only did Ouchi witness the campus' historical milestones, including watching the formation of the first student government, the building of the library, and the move to Leeward CC's current home, he was also the happy amasser of many printed documents, including newsletters, brochures and course catalogs. This year, Ouchi decided to make history again by donating his collection of printed artifacts to the Leeward CC Library.
He delivered a binder full of the prized historical records to Interim Learning Commons and Library Coordinator Wayde Oshiro, and sat down to talk story about his experiences.
"It was exciting to be part of the beginning of something I thought would be really, really big. That's why I kept the newsletters to keep a record for me and to pass it down," he said.
Ouchi's life is a record of the kind of history that can be made by attending a UH community college, and his gift to the Leeward CC Library will serve as a witness of the college's impact on him and others.
The materials Ouchi donated will be archived and soon be made available for public viewing, a legacy from someone who was there from the beginning.