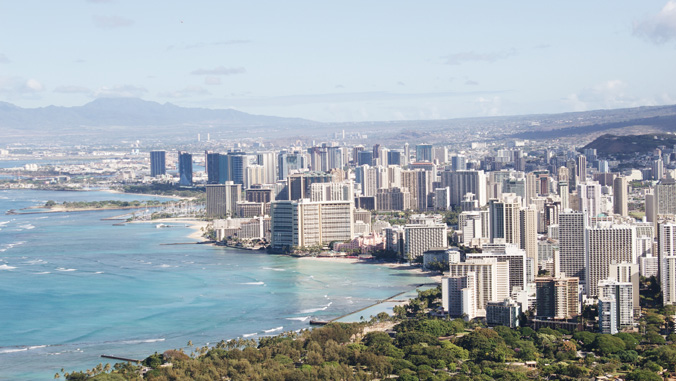 Greenhouse gas emissions are greatly contributing to global warming, causing severe effects (heat waves, droughts, hurricanes, flooding, sea-level rise) across every region on the planet. And if drastic changes aren't made soon, the results could be catastrophic in the years to come. That's according to a United Nations Intergovernmental Panel on Climate Change report released on August 9.
To help in the global fight against climate change, the state passed Hawaiʻi Act 234 in 2007, which set a target to reduce statewide greenhouse gas emissions to 1990 levels by 2020, excluding aviation-related emissions. And in 2018, the state passed Act 15 that sets a goal of making Hawaiʻi carbon net-negative by no later than 2045.
So how is Hawaiʻi doing to achieve its goals? According to a new Hawaiʻi Department of Health Hawaiʻi Greenhouse Gas Emissions report, the state was able to reduce its greenhouse gas emissions to 1990 levels by 2020, mainly due to the 2010 recession and the COVID-19 pandemic, but Hawaiʻi has more work to do to become carbon net-negative by 2045.
The University of Hawaiʻi Economic Research Organization (UHERO) in UH Mānoa's College of Social Sciences contributed to the public interest research in the state report. UHERO researchers say becoming carbon net-negative by 2045 is an ambitious goal, but progress right now is too slow.
"While we saw a temporary drop in emissions with COVID-19 lockdowns and travel restrictions, emissions in 2025 and 2030 are projected to rebound," UHERO said in an August 11 blog.
Energy emissions
UHERO estimates that greenhouse gas emissions from the energy sector are expected to be cut in half by 2030, however, that projection is tempered as there have been recent delays in renewable energy projects due to concerns related to land use, habitats and species, and impacts to local communities. These issues will need to be addressed proactively.
Transportation emissions
Transportation emissions, which include ground transportation and aviation, are not expected to see a major reduction, and may increase in some cases. Due to federal regulations that require increases in the average fuel economy of new cars and trucks, ground transportation emissions are projected to see a 7% decline from 2017 levels by 2030. This modest reduction occurs despite assuming an almost ten-fold increase in electric vehicle travel, going from representing about 1% of total passenger vehicle miles traveled to about 9% in 2030.
"In the absence of significant policy changes and public projects that target people's overall dependency on cars and trucks, vehicle miles traveled are expected to grow, dampening the overall emissions impact of a more efficient vehicle fleet," UHERO said.
Even taking into account the effects of the COVID-19 pandemic, UHERO said aviation emissions are expected to increase by more than 13% in 2030. There is a lot of uncertainty, however, as the pandemic continues and whether new approaches to the visitor industry will actually hold.
Conclusion
UHERO concluded that, while goals are important, they need to be followed with implementable policies. A recent UHERO blog discussed how a state-level carbon tax could cost-effectively help to further reduce Hawaiʻi's emissions, and potentially benefit lower income households. UHERO's recent collaboration with the City and County of Honolulu on Oʻahu's first Climate Action Plan also showed the important role of municipal actions in reaching the 2045 target. However, UHERO said getting anywhere close to net negative is not possible without massive federal policy, particularly addressing aviation emissions.
"Net-negative by 2045 is a good, science-based target. It'll take actors across the globe to realize this target to avoid the worst predictions of climate change. Achieving decarbonization will require continuous and deep-seated effort at all levels of government, and Hawaiʻi, and everywhere else, has no time to waste when it comes to implementing meaningful policies," UHERO said.
For more, see UHERO's website.
This work is an example of UH Mānoa's goals of Building a Sustainable and Resilient Campus Environment: Within the Global Sustainability and Climate Resilience Movement (PDF) and Excellence in Research: Advancing the Research and Creative Work Enterprise (PDF), two of four goals identified in the 2015–25 Strategic Plan (PDF), updated in December 2020.