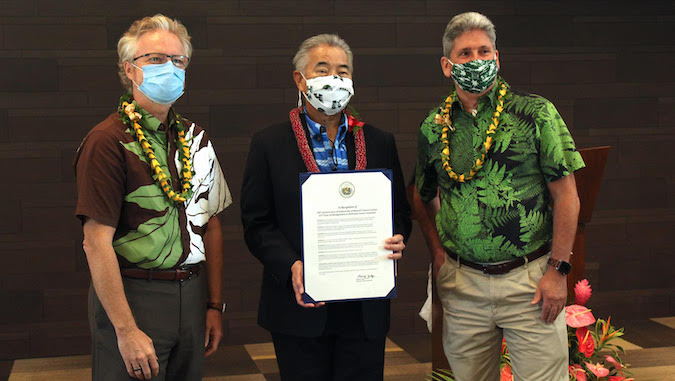 In recognition of 50 years of progress and its 25th year of continuous designation by the National Cancer Institute (NCI), the University of Hawaiʻi Cancer Center celebrated its "golden" anniversary on Saturday, August 14, at its facility in Kakaʻako. Legislators, community partners, and UH and UH Cancer Center senior leadership attended the hybrid event to highlight all that the cancer center has accomplished since its establishment in 1971.
The UH Cancer Center has made seminal discoveries in the areas of cancer biology, epidemiology, prevention and treatment, proving itself to be an invaluable asset to the state. After 50 years of cancer research, education and community outreach, the UH Cancer Center has earned its place as one of the leading cancer research institutions in the nation and the world.
The center also continues to be an economic boost for the State of Hawaiʻi. In fiscal year 2020, the UH Cancer Center and John A. Burns School of Medicine accounted for about 95% of the $63 million awarded to Hawaiʻi from the National Institute for Health that directly supported 1,298 jobs and generated $191 million in economic activity in 2020.
Among those in attendance at the event was UH President David Lassner. He acknowledged and thanked those past and present who were responsible for advancing the UH Cancer Center to where it is today. "Mahalo for five decades of committed and groundbreaking cancer research for humanity," he said.
Held in person and virtually via Zoom, attendees also heard messages from Gov. David Ige, Lt. Gov. Josh Green, U.S. congressional members, NCI Director Norman E. Sharpless, state legislators, community partners and UH Cancer Center leadership, and viewed and viewed a video showcasing the blessing of the Early Phase Clinical Research Center construction site.
New interim director introduced
During the event, longtime UH Cancer Center faculty member Joe W. Ramos was introduced as the institution's newly appointed interim director and highlighted some of the center's significant research achievements. Ramos became interim director on August 1, after highly regarded former director, Randall Holcombe, stepped down from his position at UH to lead University of Vermont Cancer Center's effort to gain NCI-designation. Faculty and staff members are looking forward to continuing the important work of the UH Cancer Center under Ramos' leadership as the search for a new director begins.
Ramos said, "This event is to recognize the extraordinary staff and faculty—past and present—who have worked together to make enduring contributions to better preventing, diagnosing, and treating cancer in Hawaiʻi and the world. In partnership with members of the Hawaiʻi Cancer Consortium and the greater Hawaiʻi oncology community, collaborators across UH, and our legislature, we have made a difference for the people of Hawaiʻi. Many challenges remain but we are passionate and committed to continuing this work into the next 50 years."
Then and now
The UH Cancer Center is an organized research unit within UH Mānoa that was originally part of the Pacific Biosciences Research Center in 1971 before it was established as its own independent research institute by the UH Board of Regents in 1981.
Its state-of-the-art facility in Kakaʻako was completed in 2013 and is home to 300 research faculty and staff, including some of the nation's leading cancer experts. In addition, another 200 affiliate members are engaged with the UH Cancer Center through the Hawaiʻi Cancer Consortium, a unified effort in clinical cancer research benefiting the people of Hawaiʻi and the Pacific Rim.
Since 2016, 16,623 participants have been enrolled in cancer clinical trials through the UH Cancer Center, and currently more than 100 research projects in its two research programs, Population Sciences in the Pacific and Cancer Biology are being conducted.