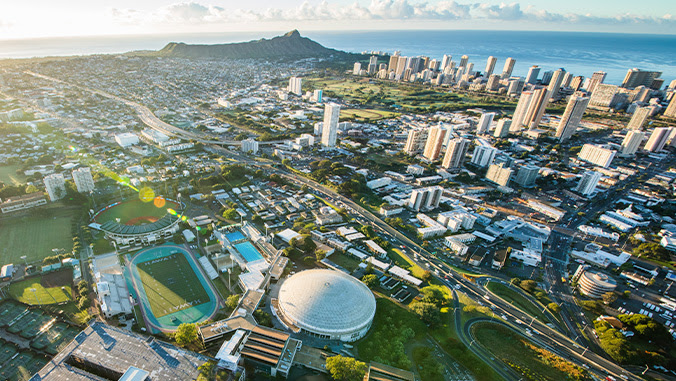 Free COVID-19 testing for University of Hawaiʻi students and employees will be available on the UH Mānoa campus on Saturday, August 21, 8 a.m. to 12 p.m. The PCR test is by appointment only (you must use a Chrome browser to access the portal) and students and employees from all UH campuses can participate. Select Sakamaki Hall as the testing site and fill out the online form. You must print and bring that form and government issued photo ID (i.e., state driverʻs license, state ID, etc.) to your appointment.
The testing will take place in the Sakamaki Hall courtyard located on Dole Street between Krauss Hall and Holmes Hall. The testing entrance is on the ʻEwa (West) mauka (mountain) end of Sakamaki via the roadway between Kuykendall Hall and Krauss at the end of Legacy Path (see map below). Follow all signage and directions, maintain safe physical distancing, and wear face masks, including while waiting in line.
Parking is available in the upper campus area and in the lower campus parking lot.
Testing is for asymptomatic, non-exposed individuals only. Do not come to campus if you are experiencing possible COVID-19 symptoms or have been exposed to the virus in the last 14 days.
Beginning on Monday, August 23, unvaccinated UH students and employees, along with those who are not fully vaccinated (two weeks after final dose), are required to provide weekly proof of a negative COVID-19 test from a UH-recognized testing facility to be on a UH campus or property.
Clinical Labs of Hawaiʻi will also provide free PCR tests at 24 locations across the state for the fall semester.
Test results will be emailed within 24 to 48 hours and must be uploaded to the LumiSight UH daily health check app. Students, employees and visitors must have a green "You may report to campus" status with the current date on the LumiSight UH app, to be on campus.
Email COVID19@hawaii.edu if you have questions.