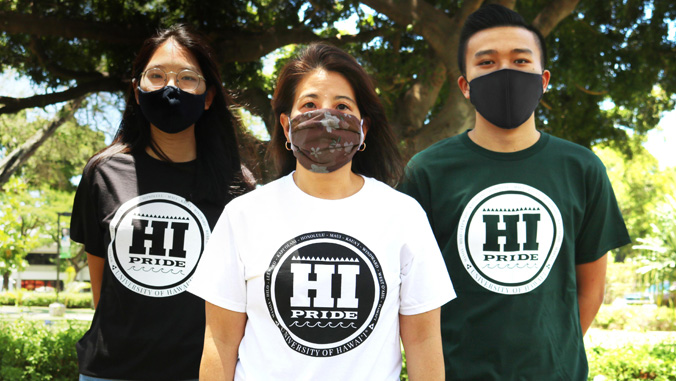 Start off the new school year with the 2021 student-designed HI Pride T-shirt available at the University of Hawaiʻi Bookstore System. This year's HI Pride T-Shirt Design Contest winner is UH Maui College student Kyla Barker.
Barker received more than 400 votes for her design that depicts HI Pride in a circle with the UH campuses surrounding it. The overall design shows the mountains, volcanoes, ocean and sandy shores. "People come from all over the world to see the natural beauty of the islands, and we are very proud to say that they are our homes," Barker said.
HI Pride student sale
Students with a valid UH ID are eligible for a discount on the first shirt they purchase. This year, the 2021 HI Pride shirts will be available in four colors: black, white, grey and green. The shirts will be available in all UH Bookstores from the week of August 30.
HI Pride design contest
The annual HI Pride T-Shirt Design Contest—now in its tenth year—is held in the spring and open to all UH students. Students are asked to submit designs that show what HI Pride (or Hawaiʻi Pride) means to them. Semi-finalist designs are posted online for a public vote.