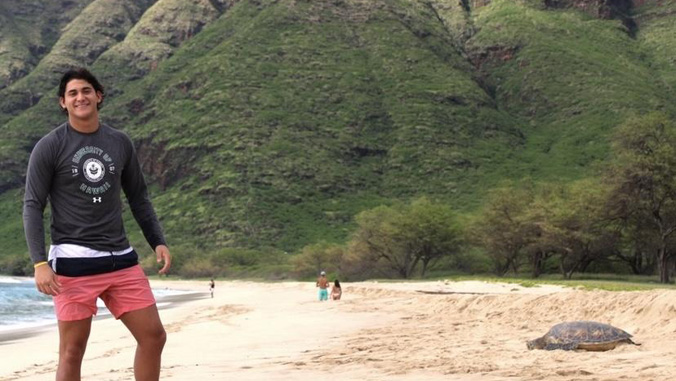 A University of Hawaiʻi at Mānoa undergraduate student literally swam for his student job. Peter Felicijan has long been engaged in a variety of academic, athletic and personal pursuits. From a small farming town in Prosser, Washington, Felicijan credits his high school clubs with teaching him leadership and nurturing his creative side.
During summers, Felicijan worked in the cherry orchards with his family to make extra money to pay for college. "It was a very humbling job and taught me to value my education and to push myself to be the best version of myself that I can imagine," he said. "Everything I did in high school I have used to build and prepare myself for my future."
His work ethic and enthusiasm has undoubtedly been a strength in the Global Environmental Science (GES) bachelor's degree program in the Department of Oceanography at UH Mānoa's School of Ocean and Earth Science and Technology (SOEST).
Nearshore sensor internship
Felicijan connected with Gordon Walker, an oceanographic technician with the Pacific Islands Ocean Observing System (PacIOOS), after Walker came to Felicijan's GES 100 class as a guest lecturer to share his work which uses near shore sensors to better understand water quality and the physical dynamics of coastal waters—sparking Felicijan's interest.
Impressed by Felicijan's enthusiasm and curiosity, Walker recommended him for an internship with the PacIOOS Nearshore Sensor Group led by Margaret McManus, professor and chair of the Department of Oceanography. Walker and fellow technician Shaun Wriston taught Felicijan to download temperature, salinity and other water quality data from the sensors; make moorings and prepare sensors for field deployment.
After a successful semester-long internship, McManus offered Felicijan a paid position as a student assistant. His main responsibilities include assisting Walker and Wriston by snorkeling to recover nearshore sensors, downloading data and performing a variety of lab services or repairs to ensure the data are accurate.
"Before coming to UH I didn't have any experience in this area of science or work," said Felicijan. "All I knew was to work hard and perform my best every day. I have enjoyed the wonderful stress-free work environment that Gordon and Shaun have made. It is probably my best achievement this school year and something I am very proud of."
This internship is an example of UH Mānoa's goal of Enhancing Student Success (PDF), one of four goals identified in the 2015–25 Strategic Plan (PDF), updated in December 2020.
For more information, see SOEST's website.
–By Marcie Grabowski