In a competition that challenged architecture students to rethink the nature of working in a post-pandemic era and design a building for holistic physical and mental wellness, teams from the University of Hawaiʻi at Mānoa School of Architecture Global Track Program won first place and an honorable mention in the 2021 Association of Collegiate Schools of Architecture (ACSA) Steel Competition.
Students were challenged to go beyond the traditionally held singular focus of worker productivity and think about environments where everyone is safe and thrives.
The Global Track Program is a three-year dual-degree program designed to offer a master of architecture from Tongji University in Shanghai, China and a doctorate of architecture from UH Mānoa. With six students from Tongji and six students from UH Mānoa, three teams of four students were created to develop entries for the 2021 ACSA Steel Competition.
First place: Immersive Workplace by Moises Loi Can, Zaw Latt, Yaning Zhang, Ming Xu
Honorable mention: Floating Oasis by Ge Tian, Dong Cao, Zhiyu Feng, Dongyan Jiang
"We are incredibly humbled and honored to be awarded 1st place for the 2021 Steel Design Competition," said the students who won the competition. "We are thankful for the support from Professor Clark Llewellyn, FAIA, along with Global Track advisory board members Marion Fowlkes, FAIA, and Stephen Huh, FAIA, for their thoughtful comments and for constantly pushing us to explore compelling design solutions to explore complex programmatic and spatial paradoxes. This design exploration enabled us to respond to the global crisis of future working and living conditions in a post-pandemic era that can be healthy, highly cooperative, and foster innovation."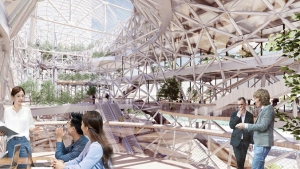 "I am honored to have worked with such gifted and motivated students," said Llewellyn. "It seemed clear to everyone involved that the studio was producing remarkable entries which could compete at the highest level. With more than 75 North American universities and 1,200 participants entering, the UH Mānoa students demonstrated they can not only compete…but win."
The winning teams each chose international sites for their designs. The first place team chose a site in Seoul, South Korea and the honorable mention team chose a site in Shanghai, China. However, the emphasis of the competition is how the future of architecture (and the workplace) will forever be affected by the pandemic. Therefore, the students addressed numerous areas of public and family health, urban design values, community relationships and more.
"UH dominated the architectural competition which focused on how to respond to the global crisis of working and living in a post-pandemic era," added Llewellyn. "The winning entries demonstrated the necessity of collaboration, holistic thinking, and emphasized the importance of 'place and people.' The winners are examples of exploration, study and imagination that allows me to be much more confident in Hawaiʻi's future."
This work is an example of UH Mānoa's goal of Enhancing Student Success (PDF), one of four goals identified in the 2015–25 Strategic Plan (PDF), updated in December 2020.