The University of Hawaiʻi at Mānoa "Rainbow Warrior" Marching Band performed at the football game on September 18 for the first time since late November 2019. A few hours after a student-led petition requesting an exemption to perform reached 1,000 signatures and a UH News story posted, the band was granted the exemption from Gov. David Ige's office at 7 p.m. Friday, September 17.
Less than 24 hours later, band members scrambled to notify each other of the opportunity; members of the percussion section rehearsed early the next morning, and the rest of the band and color guard practiced in the early afternoon, as they would for all home football games; and the 250 students took the field for two shows—pregame and halftime—at the Clarence T.C. Ching Athletics Complex as the Rainbow Warrior football team hosted its Mountain West Conference opener against San Jose State.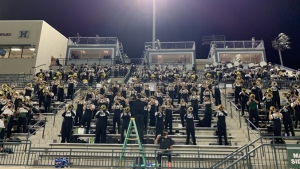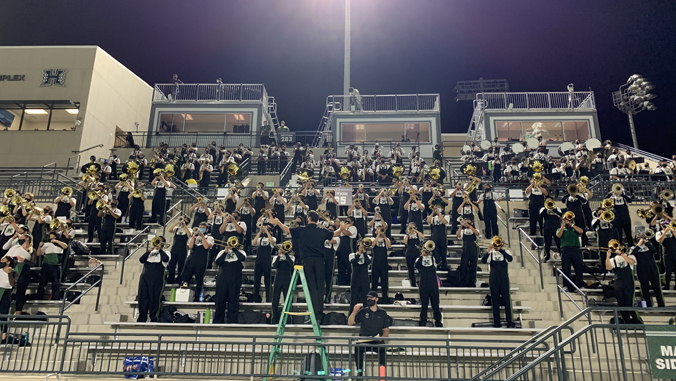 The pregame show featured its traditional array of pieces, including the UH fight song, National Anthem and Hawaiʻi Ponoʻī. For its halftime show, the band performed four pieces: "The Boys are Back in Town" by Thin Lizzy to welcome football back to Mānoa; "Happy Together" by the Turtles to spread the joy of being back together again; "All Star" by Smash Mouth as a "thank you" to all essential workers; and "Party Rock Anthem" by LMFAO featuring Lauren Bennett, GoonRock to celebrate the moment. The band also played various songs throughout the game from the stands.
"It was truly exhilarating to be able to perform at the football games again! Our last performance was over a year ago, so it was a dream come true we were allowed back, especially at the new stadium," said Candice Sarangay, UH Mānoa color guard co-captain and co-creator of the petition. "Everyone that signed the petition really deserves the credit. Thank you everyone, you truly made the marching band's night!"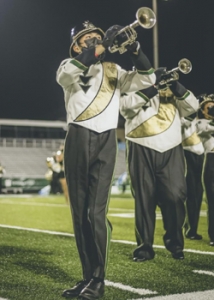 The marching band is an academic course, which has been allowed to rehearse in-person. However, their request to perform at the outdoor football games had been denied until September 17. Band members point out that all members are required to be fully-vaccinated (no exemptions or exceptions), and they are following all safety protocols based on nationwide guidance for marching bands.
"This was our first UH football game since fall 2019, and our first performance at a UH football game on our home campus ever. So this was a very special night. Our students were very excited and proud to be performing, and are greatly looking forward to the rest of the season," ​​Adam Kehl, UH marching band director, associate director of bands and assistant professor of music. "As the UH Marching Band is an academic class, the band's performances fulfill the students' academic requirements. We greatly appreciate the Governor's Office granting our request for an academic exemption. We also greatly appreciate the efforts of Athletics Director David Matlin, Provost Michael Bruno and President David Lassner on our behalf."
"For me, performing in our new football stadium felt amazing! We've been working on this one show for more than a month and it felt good to finally perform it," said Katelyn Tokunaga, UH Mānoa color guard co-captain and co-creator of the petition. "Thank you so much to everyone who helped us get back to playing! Go 'Bows!"
A request by the UH Athletics Department to allow family members of players, who will be fully vaccinated, socially distanced and masked, has not yet been granted.
There are four remaining home football games at the Clarence T.C. Ching Athletics Complex:
October 2, 5 p.m. vs. Fresno State (homecoming)
October 23, 6 p.m. vs. New Mexico State
November 6, TBA vs. San Diego State
November 20, 6 p.m. vs. Colorado State
This work is an example of UH Mānoa's goals of Enhancing Student Success (PDF) and Excellence in Research: Advancing the Research and Creative Work Enterprise (PDF), two of four goals identified in the 2015–25 Strategic Plan (PDF), updated in December 2020.
—By Marc Arakaki