After being the first ever higher education institution in the country to host Overwatch League (OWL) competitions, the University of Hawaiʻi at Mānoa is now being tapped as a host site for the league's 2021 playoffs and Grand Finals, September 21–25.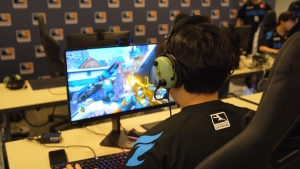 OWL is the world's first franchised esports league with 20 city-based teams across North America, Europe and Asia. Its 2021 postseason events will present an even greater learning opportunity for UH Mānoa's esports students. Five teams from the league's west region will arrive on campus before play begins. The champion of the double-elimination tournament takes home $1.5 million.
"Because of the summer internship that the students completed, I am confident that the same group of students are capable of pulling this off, but this time, on a larger scale," said Nyle Sky Kauweloa, a communication and information sciences PhD student, head of the UH Mānoa Esports Task Force in the College of Social Sciences and instructor. "The students will be assigned to different qualifying teams to help with player support and relations, allowing them even closer access and interactions with the professional esports organizations."
Summer tournaments
UH Mānoa hosted four OWL tournaments earlier this year. During each tournament, two teams from North America competed from the campus, while two others based in Asia played remotely. These tournaments heavily involved UH Mānoa esports students assisting with tournament operations, giving them valuable hands-on experience in one of the fastest growing industries in the world (global esports revenue is expected to reach $1.08 billion in 2021, up 14.5% from 2020).
In addition, participating students were also eligible to earn internship credits through a course taught by Kauweloa.
"For our students, they continue to impress me with their dedication to doing the work to make the OWL operations on campus a success," Kauweloa said. "This would have been a very different experience were it not for the students. They have shadowed, watched, networked and learned from industry veterans, many of whom the interns now call friends."
Kauweloa added, "This partnership with OWL to host the playoffs and grand finals brings more exposure to the university's commitment to esports. What I hope this spurs is a serious discussion about investing more into the infrastructure of our UH esports program. With the University of Hawaiʻi at Mānoa having been visible throughout the year in hosting, and really sustaining the league, the next question I would have is how can we support esports on our campus in a way that allows for greater space for students to participate."
Related UH News stories:
This work is an example of UH Mānoa's goals of Enhancing Student Success (PDF) and Excellence in Research: Advancing the Research and Creative Work Enterprise (PDF), two of four goals identified in the 2015–25 Strategic Plan (PDF), updated in December 2020.
—By Marc Arakaki