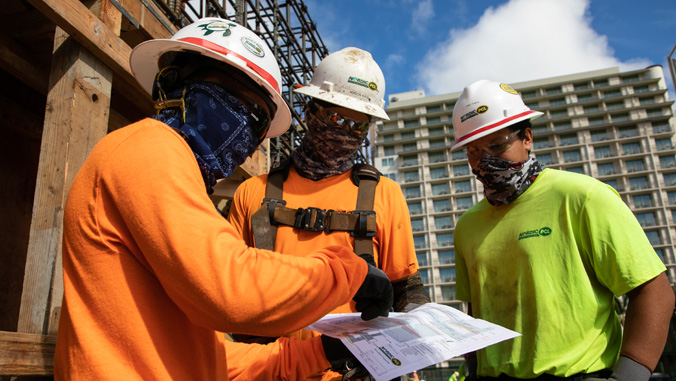 Construction workers in Hawaiʻi have been working throughout the COVID-19 pandemic, having been deemed "essential workers." Oʻahu Back to Work is offering unemployed Oʻahu residents a chance to get their foot into this industry with a free Carpenter Pre-Apprenticeship course that starts on October 4.
Training will start with instruction in carpentry fundamentals and basic tool use, construction math, basic blueprint reading and culminate with a two-week paid internship at an active construction site. Tuition and textbooks are free and in-person training at the Hawaii Carpenters and Drywall Training Fund Center in Kapolei will run Monday–Friday from 7 a.m.–3:30 p.m.
"We encourage prospective students who enjoy working with their hands to explore this opportunity to have a career in the construction industry, which has historically been an important contributor to economic growth in our state," said April Acquavella, training coordinator for the Hawaii Carpenters Apprenticeship & Training Fund. "The deadline to apply is Wednesday, September 29, so interested candidates should go to register at OahuBackToWork.com as soon as possible."
Pay for a carpenter apprentice in the Hawaii Carpenters Apprenticeship Program starts at $20.50 an hour. Apprentices earn raises every 1,000 hours reported as they work towards their journeyworker's certificate.
The Carpenter Pre-Apprenticeship class is one of about 50 in the fields of business and technology, healthcare, human services and trades being offered at University of Hawaiʻi Community Colleges through Oʻahu Back to Work, a rapid response employment training program that runs through December 17. About 400 training seats have already been filled. The free classes for Oʻahu residents struggling to find employment are sponsored by the City and County of Honolulu.